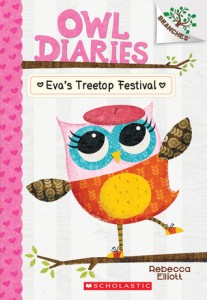 Elliott, Rebecca.  Owl Diaries:  Eva's Treetop Festival.  New York:  Scholastic, 2015.  978-0-545-68362-3.  $4.99.  Gr. 1-3.
Eva Wingdale is an owl who loves drawing, going to school, and her new diary.  On the first day of spring, the owlet offers to organize the first ever Treetop Owlementary Bloomtastic Festival.  With the event only seven days away, Eva's not sure she can get everything done in time, so she asks for help from her fellow classmates.  Eva's Treetop Festival, as well as the other books in this series, is written in diary format with speech bubbles.  Each chapter includes lively and bright colored illustrations.  THOUGHTS:  This is a great choice for those readers who are too old for picture books, but too young for a more advanced chapter book.
Fantasy (Easy Chapter Book)      Anastasia Hanneken, School Lane Charter School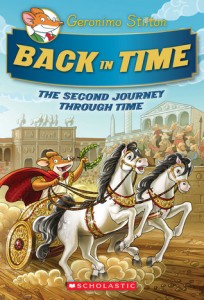 Stilton, Geronimo.  Back in Time:  The Second Journey Through Time.  New York:  Scholastic, 2015.  978-0-545-74618-2.  $14.99. Gr. 3-6.
In this installment of the Geronimo Stilton series, everyone's favorite mouse is offered a chance to travel back in time with Professor Paws von Volt in his time machine.  Geronimo travels through time and visits Ancient Rome, the great Mayan Empire, and the Palace of Versailles.  Geronimo Stilton is one of the most requested series in my library, and it's easy to see why.  This book is filled with bright and vibrant illustrations, a great storyline, and additional information to expand on the various nonfiction topics.  THOUGHTS: Geronimo Stilton is an especially  good choice for those reluctant readers and students who enjoy graphic novels.  This book is recommended for any children's or elementary school library.
Fantasy; Historical Fiction           Anastasia Hanneken, School Lane Charter School
DuBuc, Marianne. The Bus Ride. Tonowanda, NY: Kids Can Press, 2015 (English translation). unpaged. $15.95. Gr Pre-K – 1.
A trip through the woods to Grandmother's house never looked so fun, especially when the granddaughter travels on an animal filled bus. Full of clever characters who come and go from the interior view of the bus, the girl's trip is quick and entertaining. For a simple example, watch how the sloth or the fox interact with others. The sparse first person text makes it easy for readers to participate, but there are subtle gaps in the story between the pages which invite speculation and prediction and closer rereading. The Bus Ride is a charming trip in many ways. THOUGHTS: There really are a lot of ELA terms that classrooms could seek from this book. There are behavior lessons as well, such as sharing and not stealing, but apparently talking to animal strangers is accepted! Readers who check in her basket are left wondering if this girl has a familiar fairy tale reference, which makes the story even more delightful!
Easy Fiction/Picture Book   Dustin Brackbill, Mount Nittany Elementary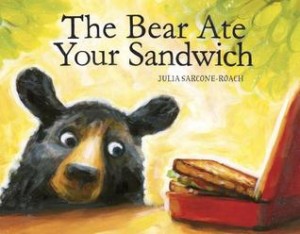 Sarcone-Roach, Julia. The Bear Ate Your Sandwich. New York: Alfred A Knopf, 2015. 34 unnumbered pages. $16.99. Grades K-3.
The title of this colorful picture book implies a simple open and shut case, but there is a creative story between the pages. The unreliable narrator describes the cheerful misadventure of a bear who wanders beyond his forest and ends up downtown. He is mostly unnoticed until he stumbles upon a tasty sandwich, gets caught, and escapes back home. Except the witnesses may know more, even if they aren't telling. The acrylic illustrations and sparse text make this a sneaky success for young readers.  THOUGHTS: This book would be great as an intro to a writing prompt or a good suggestion for readers who love Jon Klassen books. The use of an "unreliable narrator" is a growing trend in YA and adult lit, but there is delight in letting young readers play with the story this way.
Easy Fiction/Picture Book   Dustin Brackbill, Mount Nittany Elementary