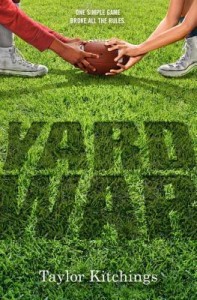 Kitchings, Taylor. Yard War. New York: Wendy Lamb Books, 2015. 978-0-553-50754-6. $16.99. 216p. Gr. 4-6.
Even though twelve-year-old Trip Westbrook is growing up in Mississippi during the Civil Rights Era, his passion and interest are focused on the football field.  He has decided, under the strong encouragement of his mother, to take a year off and try out for the team next year after he's had a chance to put on more muscle.  That doesn't stop him from planning regular pickup games in his yard with all his buddies.  To his surprise, he discovers his maid's son, Dee, can play football like a pro.  The other boys are a little skeptical at first, but Trip convinces them it's all for the good of the game.  This seems to be enough until the neighbors begin driving by, stopping to watch with a critical eye, and then spreading rumors.  Living in Jackson, Mississippi, in 1964 brings Trip's family under persecution and makes them a target for the bigotry and hatred running rampant among neighbors.  When Tom and Tim, local bullies, show up with reinforcements to carry out their threats, the boys could end up in an all-out yard war.  THOUGHTS: What first appears to be a straightforward sports story introduces the reader to the harsh realities, fears and prejudices of the civil rights movement and details how one outspoken, candid young boy stands up in the face of adversity.
Historical Fiction       Christine Massey, JWP Middle School
Riordan, Rick. The Sword of Summer (Magnus Chase and the Gods of Asgard Book 1). New York: Disney Hyperion, 2015. 978-1423160915. 491p. $19.99. Gr. 5-8.
In a stunning series-opener, protagonist Magnus Chase dies. But he's meant to, and it affords him a place in Valhalla, Norse paradise for warriors of Odin. Thankfully, the tree of life is the portal to the Nine Worlds, one of them back "home" to human Boston, and Magnus has picked up a few knowledgeable friends in his short-time dead. Two "homeless men" who looked out for Magnus on the streets turn out to be a dwarf and an elf, unswervingly loyal, and the Valkyrie who chooses Magnus for Valhalla not only defends his choice when he's questioned but works beside him to prevent Ragnarok, the Norse version of the apocalypse. Magnus is just in time to fit into the tales long foretold and to change the course of that tale, that is, if he can locate, use, lose and regain the "sword of summer" that was his father's.  With his beloved (human) mother gone, he learns his father is the Norse god Loki, and his mother died protecting her son. Riordan's writing is enjoyable and humorous at the expense of both Norse mythology and Boston (where Riordan lives, conveniently the entrance to human world, or, "why do you think Boston is called the Hub of the Universe?" 118). The chapter titles alone reveal a light-hearted side to Magnus and the story, from "Good Morning! You're going to die!" to "Four Million Channels and There's Still Nothing On Except Valkyrie Vision."
Readers unfamiliar with Norse mythology and the Nine Worlds should give attention to the helpful glossary. Book 2: The Hammer of Thor is planned for Fall 2016.  THOUGHTS: This is a not-to-be-missed series opener that will naturally lead to questions about the various gods, monsters, etc of Norse mythology, so get those books ready.
Fantasy, Mythology   Melissa Scott, Shenango High School
Count this the first Riordan book I've read, and count me a new fan. Riordan maintains masterful control of his story and an incredible number of characters, all the while injecting humor and humanity, even believability, to this great world. That it fits in with his previous writing—Magnus is Annabeth's cousin, and she makes brief, important appearance—is icing on the cake for fans who have been clamoring for this anyway. I found myself not caring so much about the outcome as the journey with these characters, especially Magnus, who doesn't take himself too seriously. Don't assign this novel; just let readers read and love it.