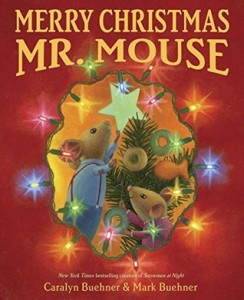 Buehner, Caralyn. Merry Christmas Mr. Mouse. New York: Dial Books for Young Readers, 2015. 978-0-8037-4010-5. Unpaged. $17.99. Gr. K-3.
Mr. Mouse and his family are new to their apartment under the kitchen stove when Christmas time arrives. The people in their home string lights on an evergreen tree, gather with friends and family, and celebrate His birth many years ago. Mr. Mouse and his wife like the idea that "…Christmas means joy, and love," and decide to celebrate Christmas with their seventeen children. They borrow bits of this and that to make their own tree and gifts, and Mr. Mouse shares the story of the first Christmas night. They also get a surprise visit from Santa! The whole family is filled with love and cheer on their first Christmas in nook number twenty-four. THOUGHTS: This story nicely incorporates the origins of Christmas, a visit from Santa, and the joy of the season in one small package.
Easy Fiction/Picture Book     Lindsey Long, Nye & Conewago Elementary Schools
Carolyn and Mark Buehner, creators of Snowmen at Night and Snowmen at Christmas, created another festive winner with Mr. Mouse and his family. The story is an enjoyable combination of holiday elements as seen through the eyes of tiny creatures unaware of the Christmas season. Mark Buehner's illustrations are the best part of the book. The back flap shows photographs of models that he created for Mr. Mouse's nook. Illustrations show a fireplace made of a chili powder can with a tiny candle for a flame and pretty matchbooks hung as art on the walls. The dust jacket also has pictures of objects hidden in the illustrations. Children will delight in looking at all the details while searching for the hidden pictures.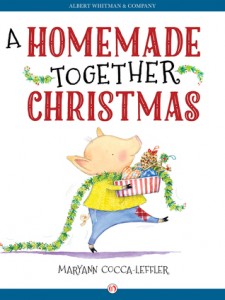 Cocca-Leffler, Maryann. A Homemade Together Christmas. New York: Albert Whitman & Co, 2015. 978-0-8075-3366-6. 32 p. $16.99. Gr. K-3.
Luca has a problem. His family decided to have a homemade Christmas, but he can't decide on a homemade gift for his family. Mom, Dad, and sister Rosie are all hard at work on their gifts, but Luca's many attempts all seem to fall short. On Christmas Eve, Mom gently reminds him that "…the best part of Christmas is spending time together." Luca suddenly has a homemade gift idea for his family that will bring joy for an entire year, starting on Christmas Day. THOUGHTS: This family of pigs will bring joy to many families around the holidays in this simple but sweet story.
Easy Fiction/Picture Book  Lindsey Long, Nye & Conewago Elementary Schools
This is my favorite new Christmas book in 2015. Maryann Cocca-Leffler's colorful illustrations pop on white backgrounds and Luca and his family are a refreshing throwback to simpler, old-fashioned holidays. This story might inspire your children and students to think of their own homemade gifts.