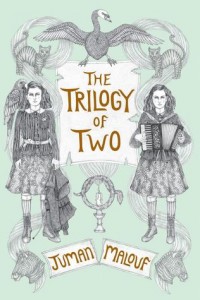 Malouf, Juman. The Trilogy of Two. New York: G. P. Putnam's Sons Books for Young Readers. 2015. 978-0-399-17114-7. 416p. $15.34. Gr 5-8.
Twelve-year-old identical twins Charlotte and Sonja Tatters have amazing musical talent. They've spent their entire lives performing with a travelling circus alongside their adopted mother, Tatty the Tattooed Lady, and their Uncle Tell, the fortune teller. Lately, it seems like the twins' power over their audience is stronger than normal, and one night, their playing even channels an indoor rainstorm and levitates the entire crowd. When the girls' musical talent is abruptly stolen and Tatty is kidnapped, the twins learn they are really the Daughters of the Key, and they play an important role in protecting the mythical Seven Edens from greedy Katz von Stralen who is out to rob all the worlds' children of their talents. Malouf's vivid storytelling pulls listeners into this fantasy world, leading them through the Outskirts, the Million-Mile-High City, the Golden Underground, and the Forlorn Forest.  THOUGHTS:  Strong middle-grade readers will enjoy following Charlotte and Sonja on this novel's three-part adventure, but the amount of world-building necessary for setting the story's foundation may deter others.
Fantasy    Anne Bozievich, Friendship Elementary, Southern York County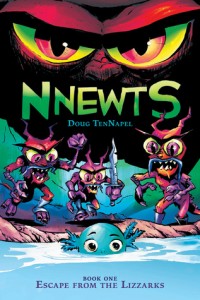 TenNapel, Doug.  Nnewts:  Escape From The Lizards.  New York:  Scholastic,  2015.  978-0-545-67646-5.  185 pages.  $10.95.  Gr. 4-8.
The Nnewts, a community of amphibians, live in the the village of Nnewtown. Herk is a young Nnewt who is  confined to his home's spawning pool because his legs are not strong enough to support his body. When Nnewtown is attacked by the evil Lizzarks, Herk's parents are killed and he is forced to escape. On his journey he meets many new characters who give him the courage to confront the Snake Lord, the villian who replaced his strong legs with weaker legs.
This is the first volume of this new graphic novel series.  The illustrations in this book are very enjoyable and complete the story.   My students can not get enough of the graphic novel genre, and I believe they will enjoy this storyline as well.  THOUGHTS:  Herk's adventures will hold the attention of the most reluctant reader.  This book is recommended for any elementary or children's collection.
Graphic Novel       Anastasia Hanneken, School Lane Charter School
Martin, Ann M. Home is the Place. New York: Scholastic, 2015. 978-0-545-35945-0. 215p. $16.99. Gr 4–6.
This book is the final in a quartet of stories that follows four generations of the same family: Abby, Dana, Francie, and Georgia. This volume begins with Georgia's sixth birthday and follows her for the next twenty years of her life. As her story unfolds, her mother Francie, grandmother Dana, and great-grandmother Abby's stories intertwine. Georgia also learns some secrets about her great -great-grandmother Nell after discovering her diaries hidden away behind a secret panel in her girlhood home in Maine. Each of the book's chapters takes place in a different year, and the story culminates with great-grandma Abby's 100th birthday party celebration.  THOUGHTS:  Martin's straightforward storytelling and vivid descriptions bring the past alive while also drawing readers into Georgia's present-day world. This title will be popular with thoughtful readers who will enjoy tracing the bond between the women in this family from generation to generation. Although this story can stand alone, to be fully appreciated, it should be read with the preceding three volumes.
Historical Fiction Anne Bozievich, Friendship Elementary, Southern York County