Holmes, Kathryn. The Distance Between Lost and Found. New York: HarperTeen, 2015. 978-0-06231-726-1.  304p. $17.99. Gr 7-12.
High school sophomore Hallelujah (Hallie) Calhoun isn't looking forward to hiking in the Great Smoky Mountains with her church group. In fact, she isn't looking forward to much; over the past year a rumor started by the preacher's son, Luke, has isolated her from even her closest friends. And now together on the hike, Luke only means to shame and embarrass her more. Hallie has remained silent through the ordeal and tries to remain so when hiking, as well. But when she and two other members of the group, Jonah and Rachel, find themselves lost in the woods, Hallie must find her voice and confront relentless physical and emotional trauma. As the hours lost lengthen and the situation turns grave, Hallie, Rachel, and Jonah must work together to survive; even if it means confronting the past. THOUGHTS: A solid and gripping debut for readers of any faith.
Realistic Fiction     Vicki Schwoebel, Friends' Central School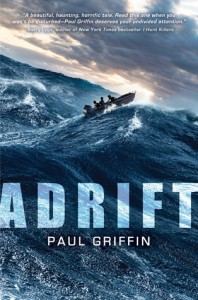 Griffin, Paul. Adrift. New York: Scholastic Press, 2015. 978-0-545-70939-2. 228p. $17.99. Gr. 7 and up.
Brooklyn teens Matt and John have summer jobs in the Hamptons, where they make extra money selling soda and ice cream on the beach. Here they meet wealthy Driana, her Brazilian cousin Estefania, and Stef's boyfriend, João. Matt is immediately smitten with charismatic Dri, and he and John accept an invitation to a beach party with her posh crew. When Stef disappears for a midnight windsurfing session, the new friends grab a neighbor's 20-foot boat and go after her. Things go off the rails after Stef suffers a severe injury, and then the boat runs out of gas, stranding the teens in high seas with no way to contact help. And, did I mention, a hurricane in the forecast? Their struggle to stay alive (and sane) becomes more grim with each passing day. The truth about what happened three years prior on the night that John's father was shot and killed gives the story needed depth. This novel, by the versatile and talented Paul Griffin, is reminiscent of Trapped by Michael Northrop, a longstanding student favorite. THOUGHTS: What this high seas survival story lacks in subtlety, it makes up in sheer excitement and reluctant reader appeal.
Realistic Fiction           Amy V. Pickett, Ridley High School