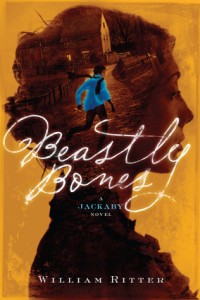 Ritter, William.  Beastly Bones.  Chapel Hill, NC: Algonquin, 2015. 978-1-61620-354-2.  304 p. $17.95.  Gr. 7 and up.
In this sequel to 2014's Jackaby, paranormal detective R.F. Jackaby and his assistant, Abigail Rook are back with a mystery that has its beginnings in a "chameleomorph", a supernatural creature that takes on the form of what it has last eaten.  One of New Fiddleham's residents is murdered shortly after her cat is possessed by a chameleomorph.  Fortunately, Jackaby is able to diminish the creature by feeding it insects.  Shortly after this incident, another strange murder takes Jackaby and Abigail to nearby Gad's Valley and an unusual archeological dig.  It soon becomes apparent that a chameleomorph (living in the body of a fantastic, destructive creature) is to blame for the increasing number of murders.  The bigger question is, who released the paranormal creature and why would he want to draw Jackaby and Abigail away from New Fiddleham?  THOUGHTS: Beastly Bones is just as funny, interesting, and clever as the first book in the series.  There is an added level of social commentary regarding the role of women that gives this story additional depth.  This book is highly recommended for any junior or senior high school library.
This novel is at least as enjoyable as its predecessor, and it may be even more enjoyable in some ways; characters are more deeply developed, and the plot is a bit easier to follow.  Jackaby is still eccentric, but he is a more fully realized eccentric.  Just when the reader thinks he is being inattentive, Jackaby delivers bits of wisdom including the following, "people think that when we arrive at a crossroads, we can choose only one path, but- as I have often and articulately postulated- people are stupid.  We're not walking the path. We are the path….Of course, you can choose both."  This is truly an empowering message for Abigail, and all young women who feel that they must choose between love and adventure/career.  Beastly Bones is truly an entertaining and intelligent book.
Mystery; Paranormal          Susan Fox, Washington Jr./Sr. High School
Ritter, William. Beastly Bones. Chapel Hill, NC: Algonquin Young Readers, 2015. 978-1-61620-354-2. 295 p. $15.99. Gr. 7-12.
After surviving her first investigation with the eccentric detective R.F. Jackaby, Abigail Rook decides to assist him in this sequel to Jackaby.  When Mrs. Beaumont is discovered dead, Jackaby launches into two separate investigations, but Abigail turns her attention to the mystery of fossils unearthed in Gad's Valley. Abigail's father is a paleontologist, and she still wants his approval, so when a body is found near the dig site and the police send for Jackaby, she has the opportunity to combine her love for investigation and paleontology. Joining the investigation is exiled police officer Charlie Cane who also happens to be a shape-shifter. Accompanied by Hank Hudson, the detectives launch a full investigation. After discovering the remains of one the most terrifying creatures to ever exist, bones begin to disappear. Jackaby and company must solve the mystery before the body count increases. Ritter mixes humor, adventure, mystery, gore, and romance exceptionally. With two cases left to solve, readers will have to patiently wait for a third volume in the series. THOUGHTS: Beastly Bones is an enjoyable reading experience that continues to develop Jackaby and Rook as two detectives reminiscent of Holmes and Watson. With multiple cases going on at the same time, readers will be kept guessing.
Fantasy, Paranormal     Graig Henshaw, Littlestown Senior HS/Maple Avenue MS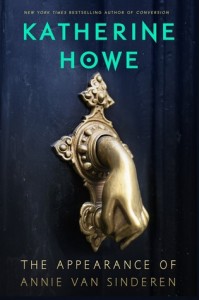 Howe, Katherine.  The Appearance of Annie Van Sinderen.  New York: G.P. Putnam's Sons, 2015.  978-0-399-16778-2. 379 p.  $17.99.  Gr. 9-12.
Wes Auckerman is an aspiring filmmaker who is taking a summer course at NYU.  While helping a friend film a seance, Wes meets an intriguing, mysterious girl named Annie.  As he begins to spend time with her, he comes to realize that she is actually a ghost alternating between her previous life in NYC during the 1800s and present-day NYC.  When Wes and Annie begin delving into Annie's past in search of her missing ring, they uncover some dark secrets and must hurry to rectify things before Annie runs out of time.  All the while, Wes works against his own deadline as he documents their adventures on camera in an attempt to complete a memorable film project for his summer class.  THOUGHTS: The book is an interesting mix of paranormal romance and historical fiction.  Fans of Cassandra Clare's Mortal Instruments series will enjoy this novel for its paranormal romance elements, but fans of historical fiction will enjoy the story just as well for its contrast between 19th century NYC and present-day NYC.
Historical Fiction; Paranormal        Julie Ritter, Montoursville Area High School
McGovern, Cammie. A Step Toward Falling. New York: HarperTeen, 2015. 978-0-06-227113-6. 364 pp. $17.99. Gr. 8 and up.
When Emily witnesses the sexual assault of a developmentally disabled student named Belinda during a high school football game, she fails to take action. Likewise for team member Lucas Kessler, who also walks away instead of getting help. As a disciplinary action, both teens are required to volunteer with a Boundaries & Relationships class for adults with developmental disabilities at the Lifelong Learning Center. Thrown into volunteering together, the two develop a tentative friendship that blossoms as they work together to stage a production of Pride and Prejudice, featuring Belinda in a lead role, as a way to make things right. Alternating chapters from Belinda's perspective describe the chain of events leading up to her being outside the locker room, alone and vulnerable on that fateful game night. In her innocent, unfiltered voice she also describes, among other things, her love of Pride and Prejudice. The classic smartly lends A Step Toward Falling some themes of looking beyond appearances and social strata to truly get to know people. McGovern's second novel (after Say What You Will, 2014) has a relaxed pace, but the dual narration, skillful unraveling of the truth about the night of the attack, and true-to-life relationships will hold the reader's interest throughout. THOUGHTS: The many important messages in this novel go down easily with a sweet spoonful of realistic romance!
Cammie McGovern's sister, Elizabeth McGovern, is an actress on Downton Abbey! Learn more about Cammie McGovern, including her role in founding Whole Children, by watching this Epic Author Facts clip.
Realistic Fiction   Amy V. Pickett, Ridley High School