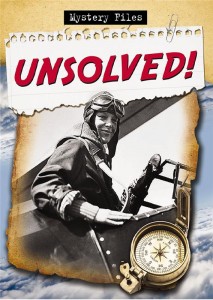 Powell, Marie.  Unsolved.  New York:  Crabtree Publishing, 2015.  978-0-7787-8073-1.  $14.56. Gr. 3-6.
This nonfiction text, which is part of the series Mystery Files, explores unsolved mysteries.  Some of the areas included are Princess Anastasia Romanov, Amelia Earhart, and the Lost Colony of Roanoke.  The text includes a glossary, index, and a "Find Out More" section with a webography.  This would be a great addition to any elementary or middle school library.  Each two page spread examines a different topic and includes photographs and/or illustrations.  Although this book may be used for informational purposes, students will also enjoy reading it for recreation.  THOUGHTS:  A great addition for any children's library collection.  It will especially appeal to students looking to explore unsolved mysteries of the past.
001.94       Anastasia Hanneken, School Lane Charter School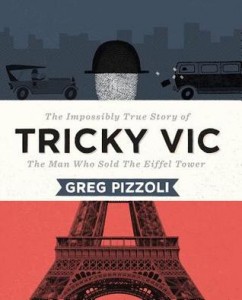 Pizzoli, Greg. Tricky Vic. New York: Viking, 2015. 978-0-670-01652-5. 39p. $17.99. Gr. 3-6.
With the subheading "The Impossibly True Story of the Man Who Sold the Eiffel Tower," Tricky Vic sets out to explain what seems highly unlikely. This is the story of Robert Miller, aka "Count" Victor Lustig, a high-stakes con man who went from small schemes, to playing Al Capone to, yes, proposing to sell the Eiffel Tower for scrap metal. Each event in Miller's life is richly described and while his face is done only as a fingerprint (the author's, actually!) the illsutrations are chock full of primary sources: photos, documents, and even his certificate of death. In addition to the colorful narrative, pages are adorned with additional facts, diagrams, and humorous drawings.  Thoughts: Pizzoli's clever collage of illustration, photos and more blend well with his story-like fact-filled text. Whether you have heard of Tricky Vic, been to France, or none of the above, you will find yourself intrigued by this con artist extraordinaire!
364.16 Criminals/Biography      Lisa Weiss, Churchville Elementary
Messner, Kate. Tree of Wonder. San Francisco: Chronicle Books, 2015. 978-1-4521-1248-0. 29 p. $16.99. Gr. 1-4.
This book introduces us to the Almendro tree, native to Latin American rain forests and the many creatures who make their homes there. Descriptive text explores a different animal on each page, with a blurb at the bottom that gives more informational details. As the reader progresses, the number of creatures doubles each time, noted in their silhouetted pictures. At the end of the book, Messner has included many resources, including information on conservation groups and books and websites for additional research. She includes a few pages of rainforest math using concepts and numbers from the book as well.  Thoughts: A beautifully written and illustrated addition to a rain forest section that would be good for earth day and other units. The math tie-in is a definitely bonus!
577.34 Rain Forest      Lisa Weiss, Churchville Elementary School