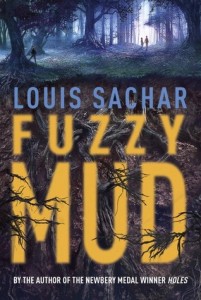 Sachar, Louis. Fuzzy Mud. New York: Delacorte Press, 2015. 978-0-375-99129-5. 181p. $16.99. Gr. 4-6.
Tamaya Dhilwaddi is a good student at Woodbridge Academy in western PA, quiet but conscientious. As she navigates the life of a fifth grader, she walks to and from school each day with her older neighbor, Marshall. Marshall was also a good student until Chad, a new student, moves in and starts bullying him. To avoid a confrontation, Marshall takes Tamaya home from school on a not-so-shortcut through the woods. When Chad finds and comes after them, Tamaya grabs a fistful of "fuzzy mud" and throws it at his face. The mud, it seems, has an awful reaction on Tamaya's hand and when she learns Chad is missing imagines the worst about him. The mystery is fast-paced as she goes looking for him, followed by Marshall, and the three find out the hard way about "fuzzy mud." It is actually a man-made rapidly multiplying microorganism gone awry, which readers gradually learn about through alternating chapters of testimony from an inquiry into Sun Ray farm.  Thoughts: The story is part mystery, part realistic fiction, and very fast-paced. It is reminiscent of Holes in how neatly the parts come together. Highly recommended for a quick read-aloud worthy of conversation about the environment, bullying and friendship.
Realistic Fiction; Mystery      Lisa Weiss, Churchville Elementary School
Liniers, Ricardo Siri. Written and Drawn by Henrietta. New York: TOON Books, 2015. 978-1-935179-90-0 60p. $12.95. Gr. K-3.
This is a story within a story. Henrietta is given a box of colored pencils which she says is "as close as you can get to owning a piece of the rainbow." She then uses them to create a story, thinking aloud with her cat, Fellini, as she includes suspense, new ideas, and the "plot thickens." Her story includes a nod to Narnia, as a three-headed monster comes into her room looking in her messy wardrobe for a hat. As she joins them on the adventure, they meet another monster, a quiet mouse, and ultimately find what they are looking for together.  Thoughts: Through fabulous language about writing and drawing from the start ("A book is like a world you can carry around with you.") to following Henrietta's thinking process in creating a story, this book is a great find for budding writers and illustrators. The graphic format is simple but detailed enough that independent readers will enjoy it as well.
Graphic Novel        Lisa Weiss, Churchville Elementary School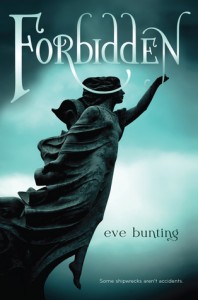 Bunting, Eve.  Forbidden.  New York: Clarion Books, 2015.  978-0-544-39092-8. 217 p. $17.99.  Grades 5-8.
Sixteen-year-old Josie Ferguson is sent to live with relatives after her parents succumb to an influenza outbreak in 18th century Scotland.  Josie's aunt and uncle live along the country's rocky northern coast and are as menacing as the stormy sea.  Right from the beginning, Josie senses that there is something wrong with her surroundings.  She is determined to discover the town's secrets and encounters hostility at every turn. While searching for answers she meets a young man named Eli, who is "forbidden" to her.  Josie eventually realizes that the town is preying on ships traveling along the stormy coast, but she cannot foresee the supernatural turn of events, or Eli's involvement, in stopping the carnage.  THOUGHTS: Forbidden is a solid introduction to the gothic literary genre.  Although older students probably won't enjoy the hurried nature of the plot, or the chaste romance between Josie and Eli, middle school students will find plenty to keep their interest.  This book is being marketed to a YA audience, but other reviewers have suggested it for younger readers, something that seems to be "on the mark."
Forbidden is reminiscent of gothic romances by Phyllis Whitney and Mary Stewart and is completely enjoyable.  The plot is somewhat formulaic (innocent girl sent to live with unknown relatives stumbles upon great evil) but the paranormal twist, with the presence of  avenging ghosts, keeps it fresh.  The fact that there is a historical element to the story makes it even more interesting; the deliberate wrecking of ships actually happened along rocky coasts all over the world during the 1800s.  This is a short novel that will be perfect for reluctant readers and young women will enjoy the "romance" between Josie and Eli.
Historical Fiction; Paranormal            Susan Fox, Washington Jr./Sr. High School