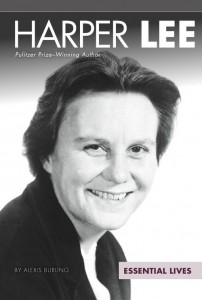 Burling, Alexis.  Harper Lee: Pulitzer Prize-Winning Author (Essential Lives Set #9).  Essential Library, 2016.  978-1-62403-894-5.  112 p.  $24.95.  Grades 5-8.
Harper Lee: Pulitzer Prize-Winning Author is part of ABDO Publishing's long-standing Essential Lives biography series.  This book has been thoroughly researched, as evidenced by the extensive source notes.  There are a number of photographs of Ms. Lee, her hometown, and the To Kill a Mockingbird film.  Sidebars and text boxes are also used liberally.  Although some of these text boxes seemed to be filler, like "Goof" Trivia from the film", most were informative and supportive of the text.  This biography was more than a simple depiction of Lee's life; it focused on how important hometown and family were to her.  It also described her friendship with a small, somewhat effeminate neighborhood boy, Truman Persons (Truman was later adopted by his stepfather and took the surname, Capote). Alexis Burling did an excellent job depicting the influence of the civil rights era on Lee, her family, and neighbors.  Each of the Essential Lives books features a thorough appendix for students including a timeline, essential facts, a glossary, and additional resources.  THOUGHTS: The Essential Lives books are solid reference volumes that would be an asset to any library's research collection.
Harper Lee: Pulitzer Prize-Winning Author was at its best when it wasn't focusing on To Kill a Mockingbird.  Harper Lee's relationships with her family, Truman Capote, and with the press are fascinating and deserve more attention.  The book focused extensively on the film version of Lee's book, possibly in order to flesh out the story, and this focus seemed to have little relevance to Harper Lee's life.  Details of her recent years, including the release of Go Set a Watchman are addressed.  Although students probably won't embrace this book for leisure reading, its currency and scholarship make it a valuable resource for student research.
92 Biography             Susan Fox, Washington Jr./Sr. High School
Bartoletti, Susan Campbell.  Terrible Typhoid Mary: a true story of the deadliest cook in America.  Houghton Mifflin Harcourt, 2015.  978-0-544-31367-5.  229 p. $17.99.  Grades 5-8.
The story of Mary Mallon is known, at some level, by most people.  Susan Campbell Bartoletti's Terrible Typhoid Mary is an excellent book about this controversial historical figure.  Mallon's infamy came from her status as a healthy carrier of typhoid fever and her work as a cook for some of New York City/ Long Island's wealthiest families in the early 1900s.  There were certainly other healthy carriers of typhoid but, for a number of reasons, Mary Mallon became the most well-known.  There are a number of possible reasons for her notoriety: the wealth of the families she worked for, the desire by Dr. George Soper and Dr. Josephine Baker to be the first to identify a healthy typhoid carrier, and Mary's low social status as an Irish Immigrant.  Whatever the reasons, Mary Mallon's reputation was destroyed, and she spent much of her life in medical exile.  THOUGHTS: This book reads like a novel and will be enjoyed by middle school students.  It is also impeccably researched with an extensive appendix.  This is a must-buy for school libraries.
Terrible Typhoid Mary is a well-written book.  However, there are a few places in the book where the author's attempt to attribute motivations and feelings to Mary Mallon don't quite ring true.  Mary did not keep a diary or document her life in any way, so it is difficult to know what she was thinking.  This book does ask some important questions relating to professional ethics.  How do we balance the freedom of an individual with the need to protect society?  What responsibility does the press have for presenting a balanced approach to news stories (even though a sensational approach will garner a lot more reader interest)?  Bartoletti's examination of these and other "big questions" make this a very interesting volume.

614.5- Incidence/Prevention of Disease         Susan Fox, Washington Jr./Sr. High School