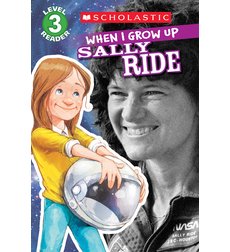 Anderson, AnnMarie. When I Grow Up: Sally Ride. New York: Scholastic, 2015. 978-0-545-60983-8. 32pp. $3.99. Gr. 1–3.
This biography focuses on Sally Ride's amazing journey from being a curious, science-loving little girl to becoming the first American female astronaut to travel to space. Sally narrates her own story, sharing her childhood love of reading and sports. She describes how after earning college degrees in physics and English, she went on to earn a PhD in astrophysics. After reading in a newspaper ad that NASA was looking for new astronauts, she applied and was accepted into the astronaut training program. In 1982 Sally became the youngest American ever to travel into space, and the first American woman.
Biography     Anne Bozievich, Friendship Elementary, Southern York County
This easily-accessible biography is a great starting point for students who are interested in NASA, the space program, or astronauts. Bold-faced words from the text are defined in the glossary, and a timeline presents a visual summary of important dates. Colorful illustrations and real photographs engage the reader as well. This title will be an asset to second and third grade biography units, and it will also be useful to supplement units about women in science or units about space travel.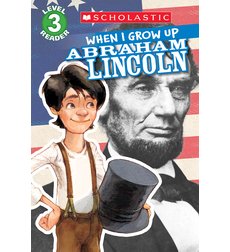 Anderson, AnnMarie. When I Grow Up: Abraham Lincoln. New York: Scholastic, 2015. 978-0-545-60979-1. 32pp. $3.99. Gr. 1–3.
In this biography, Abraham Lincoln describes his life for readers, beginning with his birth in a one-room Kentucky log cabin and ending with his assassination and burial in Springfield, Illinois. Speaking directly to readers, Lincoln introduces his family and highlights important events from all stages of his life. He describes helping out on the family farm, attending a one-room school house, travelling the Mississippi River, working as a store clerk, studying to become a lawyer, serving in the Illinois legislature and as a congressman, and winning the presidential election.
Biography     Anne Bozievich, Friendship Elementary, Southern York County
The conversational style of writing draws readers in, and large, colorful illustrations help hold their interest. The text is not bogged down with detailed dates and facts but instead gives a general, age-appropriate overview of Lincoln's life. A timeline helps reinforce key life-changing events, and a glossary reviews important words. Although no new ground is covered here, this book works well as an introduction to Lincoln's life and will be a good fit for second or third grade biography units.
Hansen, Grace.  Animal Friends series. Minneapolis, MN: ABDO, 2016. 24 p. $ 21.37. Gr. PK-1
  Elephants. 2016. 978-1-6270-893-5.
  Gorillas. 2016. 978-1-62970-894-2.
This series of simply written non-fiction books about animals will appeal to the early reader. Filled with color photographs, young researchers will be drawn in. The simple sight word filled text will help early readers find success as they begin their journey into non-fiction books. Set up with a Table of Contents, Glossary and Index, this series will support the use of text features. The books will also appeal to the first grade struggling reader, since the text is simpler, but they are similar in size and feel to other non-fiction books with a higher reading level. Additional titles include: Bonobos; Bottlenose Dolphins; Chimpanzees; Rats. Thoughts: As finding information from a non-fiction text becomes a big focus in the PA Core standards, this series will help teachers and librarians to provide quality material for students to read and interact with in the youngest grades.
Animals   Donna Fernandez, Calvary Christian Academy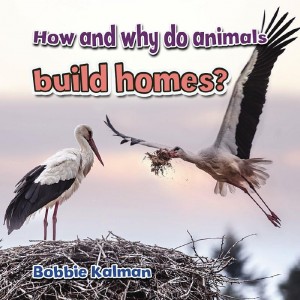 Kalman, Bobbie.  All About Animals Close Up series. New York: Crabtree, 2015. 22 p. $22.60. Gr. 1 to 3.
  How and Why do Animals Build Homes? 978-0-7787-0544-4.
  How and Why do Animals Change? 978-0-7787-0545-1.
  How and Why do Animals Move? 978-0-7787-0554-3.
  How and What do Animals Eat? 978-0-7787-0543-7.
This colorful series about animals and their habits is excellent for the first or second grade reader. The mix of real photographs with detailed illustrations and captions will provide students with lots of facts and practice navigating through a nonfiction book. Each book includes a variety of animals and how they interact and behave in their various environments. Included are insets entitled "What Do You Think?" with questions for deeper critical thinking or inferring. All of these titles display the wide variety of behaviors and physical structures of the animals in the various animal kingdoms.  Older titles include: How and What do Animals Learn?; How and Why do Animals Adapt?; How and Why to Animals Communicate?; How and Why do People Copy Animals?; Why and Where are Animals Endangered?; What Kind of Coverings do Animals Have?  Thoughts: Animals are almost always a hit with young nonfiction readers. This set is a great addition for any teacher or librarian to add to a nonfiction collection for use in an animal unit or in the common core lessons they are preparing. These books may also be used to compare and contrast various creatures using Venn Diagrams or other organizational tools.
Animals     Donna Fernandez, Calvary Christian Academy
Record Breakers (series). Edina, MN: ABDO Sportzone, 2016. 48 p. $15.99. Gr. 4-8.
  Myers, Jesse. Hockey Record Breakers. 978-0-62403-848-8.
  Trusdell, Brian. Soccer Record Breakers. 978-1-62403-850-1.
This series features five or six famous record breaking athletes or teams from each sport. Each bio includes their early years, important highlights from games and their record breaking performances. These books are for the avid sports fan who can't get enough information about their chosen sport. Other text features include an index, glossary of terms, fun facts and side bars that highlight other outstanding athletes. These details, coupled with color and black and white illustrations will make these a popular addition to a sports section.  Additional titles in this series include: Baseball Record Breakers; Basketball Record Breakers; Football Record Breakers; Olympic Record Breakers.  Thoughts: The text in these books is rich and detailed and will help the older reader to go deeper as they read about an area of interest to them.
Sports    Donna Fernandez, Calvary Christian Academy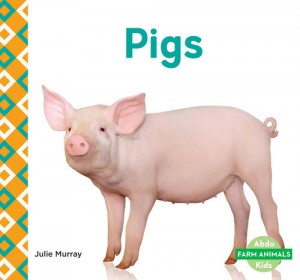 Murray, Julie. Farm Animals (series). Minneapolis: ABDO Kids, 2016. 24pp. $18.95 ea. Gr K–1.
  Pigs. 978-1-62970-942-0.
  Cows. 978-1-62970-939-0.
  Goats. 978-1-62970-940-6.
  Horses. 978-1-62970-941-3.
  Sheep. 978-1-62970-943-7.
  Chickens. 978-1-62970-938-3.
The nonfiction title Pigs is geared toward the youngest audiences and provides basic information about pigs. The text size is large, and there is a generous amount of whitespace on each page. The number of sentences per page varies between one and three, and each double-page spread features a large, colorful photograph that complements the text. This book provides simple facts about pigs, such as where they live, what colors they can be, and what they eat.  Thoughts: Each spring, as they prepare for their field trip to the farm, my kindergarten students study farms and the animals that live there. This book will be a perfect addition to their curriculum thanks to the simple, straightforward writing and bold, colorful photos.
Animals    Anne Bozievich, Friendship Elementary, Southern York County