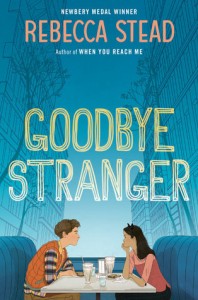 Stead, Rebecca. Goodbye Stranger.  New York: Penguin Random House, 2015.  978-1-101-91631-5.  $17.99. 317p. Gr. 6-9.
We all know that middle school isn't easy, but Goodbye Stranger by Rebecca Stead  is a gentle reminder about how hard these few adolescent years can be.  Goodbye Stranger is the story of three best friends as they embark on the journey of this difficult time.   Bridge, Tab, and Em have been friends since 4th grade and are upholding the promise of no fights; no matter how mad they get at each other.  The trio stays strong even as they begin to grow up, find different interests, grow interested in boys, and in Bridge's case wear a cat-eared headband for the first semester of school.  Stead takes on relevant topics such as sexting and bullying as well as their repercussions without a heavy hand.  THOUGHTS:  The very relevant topic of sexting and its repercussions is a key element in this story.  Although this is definitely for a middle school audience, it is a good reminder that sexting is happening in middle schools too.  
Realistic Fiction     Laura Ward, Fox Chapel Area High School
Stead, Rebecca. Goodbye Stranger. New York: Random House, 2015. 978-0-385-74317-4.  289 p. $16.99. Gr. 6-8.
Meet a set of friends as they navigate seventh grade. Bridget, known as Bridge, survived a terrible accident when she was eight years old and wonders why she was spared her life. After looking at decorations, she sees a hatband with cat ears that she continues to wear to school. In seventh grade the set of friends no longer draw pictures on the top of their homework, and their differences are becoming more clear. Emily can't hide her soccer skills or the way her body has matured. Tab is great at French, and Bridge wonders how this will impact their friendship. Sherm and Bridge are part of stage crew and become good friends. The current cover of the book depicts Sherm and Bridge at Dollar-Eight Diner having cinnamon toast and a vanilla milkshake in two glasses. Sherm is struggling with his grandfather leaving his grandmother after 50 years of marriage and writes letters that he does not mail to his grandfather.  Em receives and sends pictures of her body starting out with feet and continually advancing to other poses to eighth grade soccer heartthrob Patrick. What happens when the pictures are shared with others, and who ended up sharing them anyways? Will the friends be able to stay friends through the course of seventh grade? THOUGHTS: Fans of When You Reach Me and Liar and Spy will be ecstatic to begin Stead's new book. The Junior Library Guild selection novel has earned a multitude of starred reviews: Booklist, Horn Book, Kirkus Reviews, School Library Journal, and VOYA. This book has mature topics of discussion related to the uses of technology. ​