Hart, Carol, The Princess and the Giant. Sommerville, MA: Candlewick Press, 2015. 978-0-7636-8007-7. 32 p. $16.99. Gr. PK to 2.
Princess Sophie and her family have a problem. A giant is stomping in the beanstalk above their house and keeping them awake. Sophie thinks and thinks, and then sets out with a plan. When Sophie reaches the Giant's castle, she overcomes her fears and offers him a snack to help him sleep better. And so begins Sophie's creative and thoughtful problem solving. Rather than judge the Giant based on reputation, she bravely puts herself in the Giant's shoes and offers her help. This charming fairy tale twist is a wonderfully different story told in charming rhyme about a brave and creative princess.  Thoughts: This would be a great addition to a fairy tale unit, and even a great example of creative problem solving. It might also be fun to use this book to do a group rewrite of another fairy tale and use creative thinking to change the ending!
Fairy Tale; Fantasy     Donna Fernandez, Calvary Christian Academy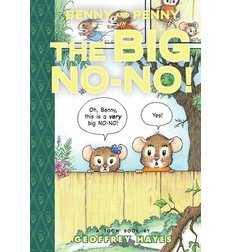 Hayes, Geoffrey. Benny and Penny in The Big No-No! New York: ABDO Spotlight, 2015. 978-0-9799238-9-0. 32 p. $14.75. Gr. 1 and 2.
Benny and Penny are curious about their new neighbor. When Benny's pail goes missing, he accuses the new kid of taking it. Since taking stuff is a "big no-no", Benny goes over the fence to get it back. However, going into someone else's yard without being invited is also a "big no-no". When they finally meet the new neighbor, things immediately go wrong.  Thoughts: This series is appealing since it is a simplified version of a graphic novel. There are simple sight words in word bubbles and fewer frames on a page, helping even the youngest reader navigate the world of graphic novels. Simple plot and story lines also allow the young reader to easily follow. Extra activities online include digital read aloud versions of this and others in the series and a kids cartoon maker, so readers can create their own graphic novel.
Graphic Novel     Donna Fernandez, Calvary Christian Academy
Bram, Elizabeth. Rufus the Writer. New York: Random House, 2015. 978-0-385-37853-6. 32 p. $17.99. Gr. K to 3.
It is summer and rather than set up his usual lemonade stand, Rufus decides to set up a story stand instead. One by one his friends offer him things in trade for a story, and Rufus uses his imagination to create a story that will be just right for each customer. The stories he creates and illustrates are then inserted in the text. Each story is unique and different. This book is imaginative, sweet, and shows early writers that ideas can be found everywhere if you just pay attention!  Thoughts: Paired with other fun beginner writer books like Rocket Writes a Story by Tad Hill and Library Mouse by Daniel Kirk, this could be a fun addition to a creative writing unit.
Realistic Fiction            Donna Fernandez, Calvary Christian Academy