Compact Research: Teen Well-Being (series). San Diego, CA: Reference Point Press, 2016. 96 p. $193.00. Gr. 7-12.  
Parks, Peggy J. Teens, Sports, and Exercise. 978-1-60152-836-0.
Parks, Peggy J. Teens and Substance Abuse. 978-1-60152-832-2.
Wilcox, Christine. Teens and Body Image. 978-1-60152-828-5.
Wilcox, Christine. Teens and LGBT Issues. 978-1-60152-830-8.
Wilcox, Christine. Teens, Nutrition, and Dieting. 978-1-60152-834-6.
This excellent 5-book series explores current core issues affecting teens mental, physical, and emotional health. Material covered is relevant to today's tweens and teens and can be used for class research or as a personal resource. Topics such as nutrition, body image, eating disorders, athletics, gender, sexuality, drugs, alcohol and many more are adequately presented, researched and defined.  Personal quotes from teens will help readers relate to and connect to content. Best of all, each volume includes in-depth illustrations and statistics, clear primary sources, a detailed chronology, a list of key people and advocacy groups to contact, and additional print and online resources for those seeking more information. THOUGHTS: This incredible content rich series is highly researched, well written, unbiased, and truly accessible to tweens and teens. A worthy and essential addition to any school library.
Health and Wellness     Vicki Schwoebel, Friends' Central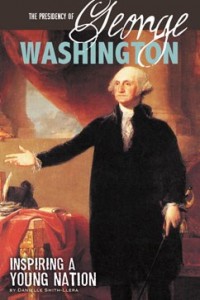 Smith-Llera, Danielle. The Presidency of George Washington: Inspiring a Young Nation. North Mankato, MN: Compass Point Books, 2015. 978-0-7565-4928-2. 64 p. $24.99. Gr 6-12.
The 8-year presidency of America's first president is explored in this short biography. Readers will learn of his prior experience as a lauded military leader, while also understanding his sense of duty and anxiety in leading a nation, which helps shape Washington into a compassionate, relatable figure. Students will also be intrigued to discover our founding father was a competent dancer and farmer. Chapters are short and lacking all but key details regarding his presidency. Includes a timeline, glossary, and a list of additional print and digital resources.THOUGHTS: While this title presents an adequate picture of Washington's presidency, add this to your collection only if your stock of George Washington biographies is seriously lacking.
Biography    Vicki Schwoebel, Friends' Central