Reynolds, Jason and Brendan Kiely. All-American Boys: A Novel. New York: Athenum Books for Young Readers, 2015. 978-14814-63331 316 p. $17.99 Grades 7-12.
Two young men attend the same high school but don't really know each other or the depth of racism in their community until the Friday night they're both near the same corner shop as they head to different parties.  A white woman trips over African-American Rashad, who is misunderstood by an on-duty police officer as assaulting the woman, stealing a bag of chips, then resisting arrest.  White "all-American" Quinn is a reluctant witness who flees the scene, then struggles to believe that police officer Paul Galluzzo, father figure to him since his own father died in Afghanistan, could be responsible, and indeed, wrong in his assessment.  Rashad is hospitalized, faces his father's distrust and his brother's anger at the event, and deals with physical pain and inner turmoil.  Internal bleeding keeps him hospitalized, and someone paints a message on the school steps that goes viral: "Rashad is absent again today."  Few people know the full story, but a video shot on a cellphone shows the attack's brutality.  Now Paul's brother, and Quinn's friend, must defend his brother, and the basketball team, cautioned by coach to "keep their emotions at the door, play on the floor," functions as a reflection of the community around them, increasingly ready to erupt at any time.  As the days go on, the tension mounts and both Rashad and Quinn are in a no-win situation.  THOUGHTS: Well-written by two authors (Jason Reynolds voices Rashad, Brendan Kiely voices Quinn) and perfectly timed to launch much-needed discussions about racial profiling, police brutality, and racism in America, this works well with Kekla Magoon's How It Went Down, a similar novel told from multiple points of view, where the "truth" comes down to point of view.  Highly recommended for middle and high school.  
Realistic Fiction          Melissa Scott, Shenango High School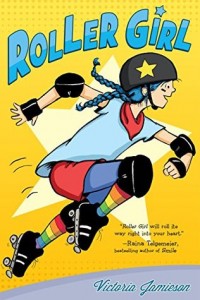 Jamieson, Victoria. Roller Girl. New York: Dial Books for Young Readers, 2015. 978-1-489-88662-0. $17.01. 239p. Gr. 4-8.
Astrid and Nicole have been best friends for a long time, so imagine the girls' surprise when their extra-curricular activities diverge to follow new interests.  Astrid can't fathom the idea.  Nicole is suddenly more interested in dance camp and friendlier with Rachel, Astrid's archenemy.  Though she's not willing to be completely honest with her mother, Astrid beings roller derby camp and attempts to make new friends.  With inspirational notes from roller derby's top skater, Rainbow Bite, Astrid strives to follow her roll model and become a jammer.  What she doesn't realize is that this will be the most rigorous summer of her life, both physically and emotionally.  When her lies come to a thrilling pinnacle, she's shocked to discover Nicole would still cover for her.  Jamieson's clever illustrations mirror Astrid's emotions, from the war face with the red background and bloodshot eyes to her vision of what could happen at the roller derby, everything from doing fine to falling into a black hole.  Readers will relate to Astrid's struggle with honesty and friendship as well as the anxiety that permeates the teen years.  THOUGHTS: A compelling story about friendship, honest, and growing up as Astrid realizes you can follow your dreams and still have a best friend if you're candid and genuine.
Graphic Novel           Christine Massey, JWP Middle School
Jamieson, Victoria. Roller Girl. New York: Dial Books for Young Readers, 2015.             978-1-489-88662-0. 240 p. $17.89. Gr. 4-8.
Astrid's mom loves to take her daughter and best friend Nicole for "Evenings of Cultural Enlightenment." Imagine her surprise when Mom takes them to a roller derby match! Astrid immediately falls in love with the fast pace and action of roller derby and decides to go to junior roller derby camp with best friend Nicole.  That is until Nicole admits that she'd rather go to ballet camp along with Astrid's enemy, Rachel. As the summer progresses and Astrid and Nicole pursue separate interests, their friendship also starts to come apart. Astrid quickly realizes that roller derby is much tougher than she expected and so is dealing with a changing friendship. She eventually finds happiness with the outcomes of both, but it's a bumpy road for derby girl "Asteroid." THOUGHTS: Jamieson's authentic voice and quirky sense of humor ring true in dialogue and illustrations in this fantastic middle grade graphic novel. Sure to be a hit.
Jamieson's debut graphic novel will leave kids begging for more. I had a fifth grade boy thank me for recommending it to him…and it's largely a story about female characters, which I find is often an unlikely hit with boys. The story is so fresh and classic at the same time, and Jamieson's artwork is just perfect. Readers really know Astrid and her world by the end of the book. One word of caution: there are a few mild swear words. Read it, relish it, recommend it.
741.5; Graphic Novel                Lindsey Long, Nye & Conewago Elementary Schools