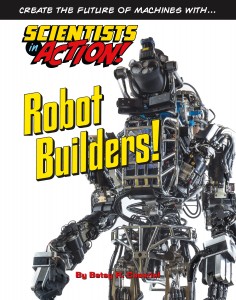 Scientists in Action! (series). Broomall, PA: Mason Crest, 2016. 48 p. $20.95. each. Gr. 5-8.
Cassriel, Betsy R. Robot Builders! 978-1-4222-3426-6.
Kelley, K.C. Astronauts! 978-1-4222-3418-1.
Bailey, Diane. Biomedical engineers! 978-1-42223-420-4.
Glenn, John. Civil engineers! 978-1-42223-421-1.
Kelley, K.C. Marine biologists! 978-1-42223-425-9.
Rich, Mari. Big-animal vets! 978-1-42223-419-8; Cyper spy hunters! 978-1-42223-424-2,
Sutinis, Beth. Crime scene techs! 978-1-42223-423-5.
Thompson, Clifford. Archaeologists! 978-1-42223-417-4; Climatologists. 978-1-42223-422-8.
Icons draw attention to vocabulary, research projects and text-dependent questions in this new series from Mason Crest. Text is supported with catchy headings and colorful images. Just as Star Wars inspired scientist Dr. Dennis Hong to learn about robots, this series exposes readers to careers that they may have yet to consider. Readers will learn that robots are able to help soldiers in battle, safely explore the ocean and also assist doctors with surgery. If students have a passion for space, they can learn what they can do so they are prepared to apply to become an astronaut or a scientist in the field while learning first hand experiences of space related scientists. A listing of books and websites to read and learn additional facts and a series glossary of key terms and an index conclude each book. Thoughts: The series presents the many opportunities found in science while inspiring the possibilities that students invision for their future.
Careers and Occupations; Science  Beth McGuire, Wendover Middle School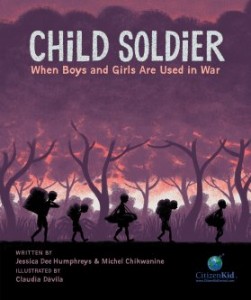 Humphreys, Jessica Dee and Michel Chikwanine. Child Soldier: When Boys and Girls Are Used in War. Illustrated by Claudia Davila. Toronto, ON: Kids Can Press, 2015. 978-1-77138-126-0.  48 p. $17.95 Gr. 5-8.
This SLJ star reviewed graphic novel is a harrowing nonfiction memoir that provides an overview of the Democratic Republic of Congo leading up to the story beginning in 1993. Children craft their own soccer balls of paper and plastic bags. During a soccer game, rebel militia arrive. Michel is hopeful that his father, a civil rights lawyer, won't let the rebels succeed, but there is nothing that can be stopped at the time.  The kids are taken and later cut with a knife while the rebels place "brown brown" (gunpowder and cocaine mixture) in the wound. After being blindfolded, five year old Michel is ordered to kill his best friend. The book is powerful and the resources provide ways that children can make differences in the world.   THOUGHTS: Consider cataloging this book with the graphic novels. Students that enjoy graphic novels might not find the book in the 300's and they might gain a great deal by reading this graphic novel. This book provides a story of growing up that may be unknown to students.
NF Graphic Novel; Children and War   Beth McGuire, Wendover Middle School