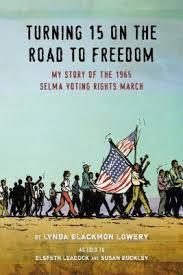 Lowery, Lynda Blackmon.  Turning 15 on the Road to Freedom: My Story of the 1965 Selma Voting Rights March.  New York: Dial Books, 2015.  978-0-8037-4123-2. 127p. $19.99.  Gr. 7-12.
Lynda Blackmon Lowery was the youngest marcher on the 1965 Selma to Montgomery march for voting rights.  In this book, she recounts this experience as well as other key events during the civil rights movement to which she was a witness, including speeches by Dr. Martin Luther King, Jr., nonviolent sit-ins, and Bloody Sunday.  The text is broken up by both colorful  illustrations and black and white photographs from the time period.  The book also includes brief biographies of lesser known civil rights activists who lost their lives in the days before and after Bloody Sunday, as well as lyrics to a couple of freedom songs.  The author's voice really comes out in the narrative, making the reader feel as though he or she is right there in the middle of the action.  THOUGHTS:A solid addition to any middle or high school history collection, this would be an outstanding choice for reluctant readers.  Not only is it a quick read, but it is very engaging and easy to follow.  Fans of Melba Patillo Beals' Warriors Don't Cry would also enjoy this title.
323.1196; Civil Rights Movement        Julie Ritter, Montoursville Area High School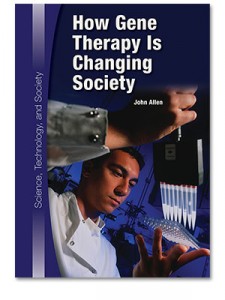 Science, Technology, and Society (series). San Diego, CA: ReferencePoint Press, 2016. 80 p. $160. Gr. 7-12.
Allen, John. How Gene Therapy is Changing Society. 978-1-60152-898-8.
Green, Robert. How Renewable Energy is Changing Society. 978-1-60152-904-6.
Henderson, Harry. How Mobile Devices are Changing Society.  978-1-60152-902-2.
Mooney, Carla. How the Internet is Changing Society. 978-1-60152-900-8.
Nardo, Don. How Robotics is Changing Society. 978-1-60152-906-0.
This series gives an overview of five modern technological tools/scientific methods and discusses how each has impacted our society.  Each title focuses on one technological or scientific advancement and provides information about its history, use in society today, potential downfalls of its use, and its future.  Timelines, source notes, and additional resources are provided in each book.  The text is broken up by color photographs, magazine and newspaper excerpts, charts, graphs, and highlighted vocabulary words and definitions.  THOUGHTS:  These easily accessible titles provide up-to-date information and statistics on 21st century science and technology topics and are therefore useful for students conducting research on these innovations.  However, they will probably not be appealing to students looking for a leisurely read on these topics.
300s; 600s; Science and Technology              Julie Ritter, Montoursville Area High School​