Dominy, Amy Fellner. A Matter of Heart. New York: Delacorte, 2015. 978-0-385-74443-0. 306 p. $17.99. Gr. 8-12.
Abby has only ever had one goal – to swim (and win) in the Olympics.  Now 16, her dream seems within reach.  If she can pull off a personal best in the state championships, she might just qualify for the Olympic Trials.  Her life revolves around swimming, her best friend and her boyfriend are both on the team, her part-time job is teaching swimming lessons, and she always seems to be on her way to a meet or a practice.  After experiencing a dizzy spell at a swim meet, Abby goes in for a checkup and is shocked to be  diagnosed with a mild form of hypertrophic cardiomyopathy (HCM).  Abby is told that in order to live with the condition, she will have to take beta-blockers.  The problem is, the medication will result in slower swim times, but she could have fatal consequences without the medication.  Faced with this choice, Abby is forced to decide if her swimming dream is worth the risk.  Throw into the mix pressure from family (her mom wants her to quit swimming; her dad, a former swimmer, wants her to continue), and the
breakup of her relationship with her boyfriend, and it's not surprising Abby makes some mistakes along in her journey.  THOUGHTS: A Matter of Heart is not just a sports novel (or a "teen diagnosed with an illness" novel, either).  It is the story of a teen who  must discover who she really is when how she has always defined herself is suddenly torn away.  Fans of contemporary realistic fiction will find this a solid read.
Realistic Fiction    Elizabeth  Henry, Lampeter-Strasburg HS/MS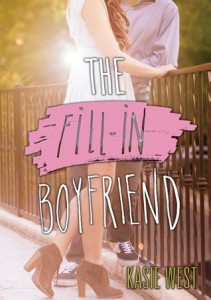 West, Kasie. The Fill-In Boyfriend. New York: HarperTeen, 2015. 978-0-06-2233638-5. 344p. $9.99. Gr. 7-12.
Gia's got a problem; her long distance boyfriend Bradley just dumped her in the parking lot outside the prom.  What's a girl to do?  To a social status conscious girl like Gia, entering the prom alone isn't an option.  Especially since she knows that Jules, the new girl who is battling Gia for the top spot in their group of friends, is sure to humiliate her.  So when Gia spots a unknown guy sitting in his car in the parking lot she pleads with him to be her fake date for the evening.  Amazingly, the guy (Hayden) agrees to impersonate her boyfriend, and they pull off the ruse.  What was supposed to be a one time favor soon turns into more as a series of events bring Gia and Hayden back into each other's orbit, and they begin to develop feelings for one another.  The situation surrounding their relationship, as well as some other outside influences, cause Gia to re-think her preoccupation with social status and popularity.  THOUGHTS: Readers who are able to suspend their disbelief in order to accept how Gia and Hayden meet will find an enjoyable romantic read that also imparts some truths about the preoccupation teens have with social status.  Hand to your romance/chick lit fans.  
Realistic Fiction; Romance     Elizabeth Henry, Lampeter-Strasburg HS/MS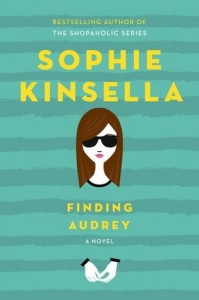 Kinsella, Sophie. Finding Audrey. New York: Delacorte Press, 2015. 978-0-553-53631-6. 304p. $18.99. Gr. 7 & up.
The author of the Shopaholic series makes her YA debut with this story about a girl who suffers debilitating anxiety.  An incident involving some girls at school leaves Audrey so traumatized that she constantly wears dark glasses and never leaves the house.  She's making progress with the help of a therapist, but she still panics when confronted by someone outside her family, such as her brother's friend Linus.  Linus won't give up, though, even after Audrey freezes the first time he visits her house.  First he sends her adorable notes; then he gently initiates conversations from across the room.  Audrey eventually works up the courage to ask Linus to be interviewed for her therapist's "homework" which is a documentary about her family.  As Linus and Audrey grow closer, Audrey gathers the courage to start taking on more stressful assignments, such as trips to Starbucks and the park.  Audrey is an endearing, funny character, and the reader will cheer for her to pull through, however slowly that might be.  THOUGHTS:  You never find out what exactly happened at school to trigger Audrey's anxiety, but that's not really important.  Readers find out what sufferers of chronic anxiety experience through this realistic novel.  I recommend this for any high school collection, especially where Kinsella's other novels are widely read.
Realistic Fiction        Kristen Rowe, Plum Senior High School