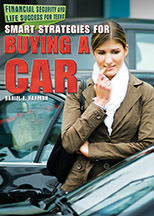 Financial Security and Life Success for Teens (series). New York: Rosen, 2015. 80 p. $25.70 ea. Gr. 7-12.
Bickerstaff, Linda. Smart Strategies for Saving and Building Wealth. 978-1-4777-7626-1.
Harmon, Daniel E. Smart Strategies for Buying a Car. 978-1-4777-7622-3.
Landau, Jennifer. Smart Strategies for Sharing, Subletting or Renting an Apartment. 978-1-4777-7630-8.
Peterson, Judy Monroe. Smart Strategies for Investing Wisely and Successfully.978-1-4777-7618-6
Prentzas, G.S. Smart Strategies for Paying for College. 978-1-4777-7614-8.
Swanson, Jennifer. Smart Strategies for Turning an Idea into a Product or Service. 978-1-4777-7634-6.
Dealing with financial-related issues can be intimidating to many of today's teens.  The purpose of Rosen's Financial Security and Life Success for Teens series is to help students plan and strategize in order to properly manage their personal finances.  Each volume of the series addresses a financial-related topic (buying a car, investing, paying for college, etc.) that teens are likely to encounter in high school or shortly thereafter.  Each title offers step-by-step advice on how to plan and budget for the scenario under discussion.  Common myths about each topic are addressed and disproven.  Each volume also includes lists of questions to ask when preparing to make an investment (ie. what to ask the car salesman, what to ask a potential landlord, etc.).  Financial-related terms and concepts are defined and explained throughout the text.  THOUGHTS:  The title reviewed in this series, Smart Strategies for Buying a Car, did a credible job of making a financial-related topic accessible to secondary readers.  Each step of the car purchasing process is broken down and clearly explained.  Especially useful is the list of questions to ask the salesman prior to making a purchase.  Students facing decisions in any of the financial  issues under discussion will gain insight from this series.  
300s, 600s; Economics, Management    Elizabeth Henry, Lampeter-Strasburg HS/MS
The Economics of Energy (series). New York: Cavendish Square, 2015. 80 p. $24.95 ea. Gr. 7-12.
Bjorklund, Ruth. The Pros and Cons of Hydropower. 978-1-6271-2930-5.
Bjorklund, Ruth. The Pros and Cons of Natural Gas and Fracking. 978-1-6271-2921-3.
Hicks, Terry Allan. The Pros and Cons of Biofuel. 978-1-6271-2933-6.
Hicks, Terry Allan. The Pros and Cons of Oil. 978-1-6271-2927-5.
Stefoff, Rebecca. The Pros and Cons of Coal. 978-1-6271-2918-3.
Sullivan, Laura. The Pros and Cons of Solar Power. 978-1-6271-2924-4.
Pro and con perspectives on various types of energy are the focus of this Cavendish Square series.  Each energy topic is introduced via a chapter discussing the history of the energy resource as well as descriptions of how the energy is harvested/created.  Further chapters explore the benefits and disadvantages for each type of energy and the future of the each energy in today's world.  Fact boxes highlight topics of special interest or provide definition of key terms.  Critical thinking boxes ask questions of the reader in order to stimulate a deeper understanding of the topic (and might also serve as inspiration for research paper topics).  THOUGHTS:  These accessible volumes provide up to date information on current energy topics and trends.  Particularly of note to PA librarians may be the volume reviewed, The Pros and Cons of Natural Gas and Fracking, as fracking has become a large (and often controversial) part of the energy industry within the state.  Recommended for purchase in schools where energy-related research occurs.
333; Energy      Elizabeth Henry, Lampeter-Strasburg HS/MS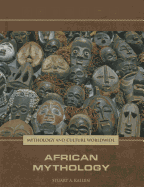 Mythology and Culture Worldwide (series). Farmington Hills, NJ: Lucent, 2015. 104 p. $39.40 ea. Gr. 7-12.
Kallen, Stuart A. African Mythology. 978-1-4205-1145-1.
MacKay, Jennifer. Hindu Mythology. 978-1-4205-1260-1.
Nardo, Don. Aztec Mythology. 978-1-4205-1166-6.
Nardo, Don. Celtic Mythology. 978-1-4205-1107-9.
Lucent Books has added four new titles to their existing Mythology and Culture Worldwide series in 2015.  Each title focuses on a popular (and frequently researched) single cultural/national mythology.  The origins of the mythology within the culture are presented and explored.  Key myths and mythological characters and gods/goddesses are explained and defined.  Connections are made between the mythology under discussion and culture that created the mythology.  Readers will learn how the mythology was influenced by the culture's history, religion, social organization and geographical/natural resources.  Numerous full-color photos supplement the text, as well as charts that list key mythological characters, including descriptions and pronunciations.  THOUGHTS: This series does an excellent job of placing mythology within the overall context of the culture.  Readers will not only learn quite a bit about myths, but they will be well-informed on the history of the culture.  The text of the volume reviewed (African Mythology) was greatly enhanced by the inclusion of numerous high-quality images, both historical black and white and color photos, of cultural artifacts and scenes.  
290s; Mythology   Elizabeth Henry, Lampeter-Strasburg HS/MS
In United States History (series). Berkley Heights: Enslow, 2015. 96 p. $20.95 ea. Gr. 6-12.
Fremon, David K. The Great Depression. 978-0-7660-6087-6.
Fremon, David K. The Salem Witchcraft Trials. 978-0-7660-6340-2.
Zeinert, Karen. McCarthyism and the Communist Scare. 978-0-7660-6345-7.
Enslow added to their existing In United States History series with the publication of these three titles.  The series spotlights key events in US History and are primarily intended for research projects and reports.  Each title explores the background and causes of each event (Great Depression, Salem Witch Trials, McCarthyism), then examines each topic in-depth, identifying and explaining key events as well as profiling figures associated with the event.  Each title also includes a limited number of black and white illustrations (photos, diagrams, etc.).  THOUGHTS:  This series is a solid addition to the shelves for student researchers.  The text is written at accessible level appropriate for middle and high school researchers.  Large margins and line spacing make the text easy to read.  While these titles are likely most appropriate for research purposes, students with an interest in the topic/event may find them enjoyable leisure reading material.     
300s; Economics, Law, Politics     Elizabeth Henry, Lampeter-Strasburg HS/MS