Coates, Ta-Nehisi. Between the World and Me. New York: Spiegel & Grau, 2015. 978-0-8129-9354-7. 152 p. $24.00. Gr. 9 and up.
Ta-Nehisi Coates writes this book for his son.  It's written as a letter to Samori, and what a beautifully written piece. Coates began to write this book after a grand jury declined to indict the police officer who shot Michael Brown in Ferguson, Missouri. This was his attempt at explaining the world as he sees it; his experiences as a boy in school and his neighborhood in Baltimore; his college experience at Howard University, and his life since.  "Never forget that for 250 years black people were born into chains—whole generations followed by more generations who knew nothing but chains."  There is fear, sadness, harsh reality, and hope in this work.  THOUGHTS:  Being a huge fan of "The Atlantic" magazine, I have read many articles by Coates and was very interested in reading this book. What a powerful work!  My copy is flagged, underlined, and full of post its. Teachers and students should read this book.  Its commentary on growing up black in America is necessary and important.  
Social Commentary        Rachel Gutzler, Wilson High School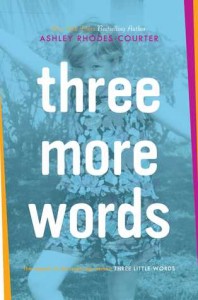 Rhodes-Courter, Ashley. Three More Words. New York: Atheneum, 2015. 978-1-4814-1557-6. 290 p. $18.99. Gr. 9 and up.
Ashley Rhodes-Courter was a child of the foster care system.  Taken from her mother at age three, she spent her childhood in 14 foster homes over ten years. She didn't come out of it totally unscathed, but she was resilient, finding strength to advocate for herself and others in the system, and writing a book (Three Little Words) about her early life.  Years later, she continued the story with this book, Three More Words. Ashley seems to have it all: a bright future with a career and speaking engagements.  She was helping other children in the system, and she got her "happily ever after", but it wasn't always easy.  She had to deal with issues from her past, and does so with great honesty in the book.  She is very honest about her biological parents, foster parents, the foster care system, and all the struggles she had.  The photos are a great addition, as are the updates included at the end of the book.  THOUGHTS:  I was touched by Ashley's first memoir, Three Little Words, and her struggle spending almost 10 years in the foster care system, ultimately being adopted by a family.  I was very excited to read more of her story.  This was a wonderful follow-up, and I highly recommend both books.  
Memoir       Rachel Gutzler, Wilson High School