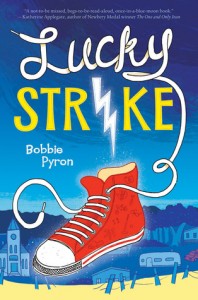 Pyron, Bobbie. Lucky Strike. New York: Scholastic, 2015. 978-0-545-59217-8.  272p. $18.99. Gr. 4-7.
Nate Harlow is extremely unlucky.  He's never won a prize and always gets picked last.  His best friend, Genesis Beam does not believe in luck, and instead puts all her trust in science and logic.  Nate gets struck by lightning on his birthday and by some miracle survives.  This lightning strike has changed Nate's luck.  Nate is suddenly the most popular kid at school and the star baseball player.  But how long can his luck last? THOUGHTS: This is a very enjoyable, fast-paced story written in a style similar to Andrew Clements.  Students will enjoy the themes of friendship and loyalty found in this book.
Realistic Fantasy          Anastasia Hanneken, School Lane Charter School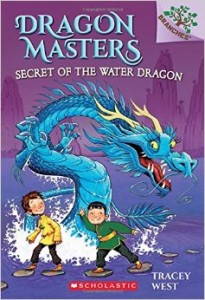 West, Tracey. Dragon Masters: Secret of the Water Dragon. New York: Scholastic, 2015. 978-0-545-64623-9. 90p. $10.00. Gr 1-3.
This book is part of a series of five so far, from Scholastic's early chapter book line, Branches. In this story, someone is trying to steal the dragon stone, and the dragon masters must protect it.  It is fast paced and of high interest for fantasy readers and includes illustrations on every page.  It is very for early readers and includes questions and activities at the end.  THOUGHTS: There is a king, wizard, magic stone, dragons, and dragon masters in training; what more could a fantasy lover want!
Fantasy     Caroline Romano Wallenpaupack Area School