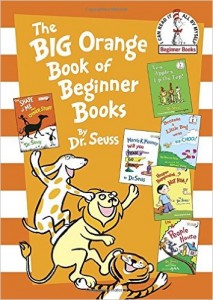 Seuss, Dr. The BIG Orange Book of Beginner Books. New York: Random House, 2015. 978-0-553-52425-3. 240p. $15.99. Gr Pre-K-2.
This book includes six individual titles by Dr. Seuss: Marvin K. Mooney Will You Please Go Now!; The Shape of Me and Other Stuff; In a People House; Hooper Humperdink…? Not Him!; Ten Apples Up On Top! Because a Little Bug went Ka-CHOO!.  The large print and illustrations help emergent reader guess the words they may not know yet while developing reading skills through rhyme and classic, beloved Dr. Seuss characters.  THOUGHTS: Buy if you do not have enough individual copies.
Picture Book Collection      Caroline Romano Wallenpaupack Area School District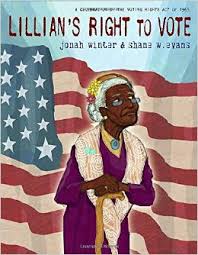 Winter, Jonah and Shane W. Evans. Lillian's Right to Vote. New York: 2015.978-0-385-39028-6. Unpaged. $17.99. Gr 1 -4.
As hundred year old Lillian journeys to the top of a very steep hill to vote, she is reminded of what it took in order for all African Americans to get the vote: from slave ties to freedom; from an impossible test to the 1965 Voting Rights Act. The colorful art and well crafted sentences create a read aloud that will spark a discussion on the hard won right to vote. THOUGHTS: This is an excellent text for extending a study of Martin Luther King Day, Black History Month, or Election Day.  It is highly recommended.
Historical Picture Book      Caroline Romano, Wallenpaupack Area
Miyakoshi, Akiko. The Tea Party in the Woods. New York: Kids Can Press, 2015.  978-177138-107-9. Unpaged. $16.95. Gr. K-5.
One wintery, snowy day, a young girl named Kikko realizes her father has forgotten the pie he was supposed to take to Grandma's house.  When she tries to catch him in the woods, she accidentally follows a bear instead.  She finds herself by a house she does not know but is too curious to leave.  As she looks through the window, a lamb wearing a coat and carrying a purse asks her, "Are you here for the tea party?"  Keikko joins the many animals for a splendid and magical tea party.  Akiko Miyakoshi has beautifully illustrated this tale.  The illustrations are mostly black and white with an occasional stroke of yellow and red.  The story ends with the animals disappearing back into the woods, and one must question whether the story is really happening or a figment of Kikko's imagination.  Thoughts:  I would recommend this book for any children's or elementary library.  This story promotes much discussion with students and is a great read aloud.
Picture Book                             Anastasia Hanneken, School Lane Charter School
Feeney, Tatyana. Small Elephant's Bathtime. New York: Alfred A. Knopf, 2015.  978-0-553-49721-2. Unpaged. $16.99. Gr. PK-2.
Small Elephant likes water, but not being in it.  His mother tries to make bath time fun with toys and games, but Small Elephant does not want to get in the bath!  Small Elephant's father thinks of a way to get Small Elephant in the bath, but will it work?  THOUGHTS:  This is a very cute book with enjoyable illustrations.  Young students will be able to relate to Small Elephant.  It's a great addition to storytime!
Picture Book         Anastasia Hanneken, School Lane Charter School