Bishop,Nic.Frogs. New York: Scholastic, 2015. 978-0-5456-0570-0. 31p. $8.99. Gr.K-2.
This is the latest from award winning photographer and biologist Nic Bishop.He introduces facts about frog habitats, bodies, and life cycles. He includes a picture index and glossary. THOUGHTS: The pictures do reinforce the text and assist all beginning readers, especially the visual learner.
Frogs    Caroline Romano, Wallenpaupack Area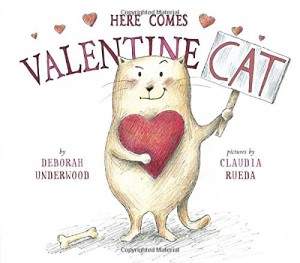 Underwood, Deborah. Here Comes Valentine Cat. New York: Dial Books for Young Readers, 2016. 978-0-525-42915-9. Unpaged. $16.99. Gr. K-3.
Deborah Underwood's delightfully spunky Cat is dreading "mushy" Valentine's Day. The narrator suggests that Cat send a Valentine to a friend, but he can't think of anyone…until the new dog next door howls a hello over the fence. Cat is unsure about making friends with a dog, but he's especially confused when bones and balls start flying over the fence and hit Cat on the head. He considers sending an angry Valentine until he gets one from Dog. It turns out that Dog is trying to be friends by sending gifts over the fence, so Cat decides to befriend the adorable Dachshund next door. As always, the narrator communicates with Cat through a series of exchanges in which the narrator talks and Cat answers with comedic signs and facial expressions. THOUGHTS: Kids will enjoy reading about Cat any day of the year, not just Valentine's Day.
Underwood's newest Cat offering is just as enjoyable as the first three (Here Comes Santa Cat, Here Comes the Easter Cat, Here Comes Tooth Fairy Cat). Claudia Rueda's illustrations contain a lot of white space that allows readers to focus on Cat and his funny faces and ideas. Search the blog to read a review of Here Comes Tooth Fairy Cat.
Picture Book; Easy Fiction      Lindsey Long, Nye & Conewago Elementary Schools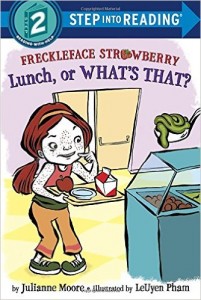 Moore, Julianne. Lunch, or WHAT'S THAT? New York: Doubleday Books for Young Readers, 2015. 978-0-385-39192-4. 32 p. $12.99. Gr. K-3.
Freckleface Strawberry and her friend Windy Pants Patrick love to eat, but they do not love to eat cafeteria food. One day, Freckleface Strawberry and Windy Pants Patrick get into the lunch line, and she gets some green noodles for lunch. "What's that?" her friends ask. "I don't know!" she responds, but bravely tries some and realizes that she likes it. THOUGHTS: Simple sentences with lots of repetition will help early readers enjoy reading about darling Freckleface Strawberry and friends.
This story is one of several written by actress Julianne Moore about Freckleface Strawberry. These easy readers feature bright illustrations by LeUyen Pham that highlight the main character's beautiful red hair and freckles. These stories are popular with both boys and girls as Windy Pants Patrick features prominently in the stories, as well.
Easy Fiction; Picture Book      Lindsey Long, Nye & Conewago Elementary Schools