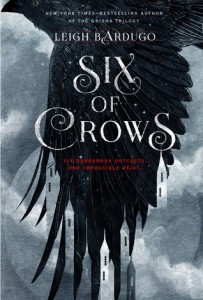 Bardugo, Leigh. Six of Crows. New York: Henry Holt and Co., 2015. 978-1-6277-9212-7. 480 p. $18.99. Gr 9-12.
Kaz Brekker, aka Dirtyhands, is the most infamous criminal in Ketterdam. As a notorious master of lockpicking, disguise, and thievery, Kaz leads a gang of misfits known as the Dregs. Each member is unique: Inej, trained as an acrobat is known as The Wraith; Nina, a Grisha Heartrender, can manipulate internal organs; Jesper, is a gambler with a secret; Matthias, a prisoner, is trained to hunt and kill Grisha, and Wylan, is a boy with a penchant for explosives. When Kaz is offered a small fortune for breaking a prisoner out of the impenetrable Ice Court, he knows only the right crew can help him pull off the job. So, Kaz and the Dregs set off towards the frozen city of Fjerda, uncovering dark and deadly secrets along the way. Leigh Bardugo outdoes herself in this outstanding, well-crafted story that takes place two years after the best-selling Grisha Trilogy. Told from five different narratives, the life, and often heartbreaking history, of each character is drawn out as the story progresses. THOUGHTS: An excellent addition to the world of YA fantasy; look for the next book in the series to hit shelves in September 2016.
Fantasy     Vicki Schwoebel, Friends' Central School
Bardugo, Leigh. Six of Crows. New York, NY: Henry Holt and Company, 2015.  978-1-62779-212-7. 465 p. $16.99. Gr. 9-12.
Six of Crows is the story of six young people who have been offered the chance to pull off the greatest (and possibly riskiest) heist in history. Ketterdam is a city ruled by the Merchant Council; however, rival gangs rule the streets, brothels, and gambling houses. When presented with the opportunity to rescue a prisoner from the most secure prison imaginable, Kaz Brekker can't resist. He assembles the best crew he can: "A convict with a thirst for revenge, a sharpshooter who can't walk away from a wager, a runaway with a privileged past, a spy known as the Wraith, and a Heartrender using her magic to survive the slums." There's also Kaz himself, an expert lock pick, illusionist, and thief who takes calculated risks. Bardugo expands on the world of the Grisha trilogy and sends readers on a journey into a world that blends magic and mystery with heist and suspense. Readers will like the well-developed characters and their interactions, rooting for them along the way. Bardugo leaves readers with an unresolved ending, which will have them anxiously awaiting Crooked Kingdom.  THOUGHTS: Six of Crows was the most enjoyable fantasy novel that I have read in the past few years. It may be one of the most enjoyable books I've read in the past few years. Kaz Brekker is the anti-hero that you can't help but like. Magic, suspense, danger, mystery, romance, and a heist, what's not to love?
Fantasy    Graig Henshaw, Littlestown Senior HS/Maple Avenue MS
Hahn, Rebecca. The Shadow Behind the Stars. New York: Atheneum, 2015. 978-1-4814-3571-0. 240 p. $17.99. Gr. 7 and up.
Chloe, the youngest of the three sisters, or three Fates, tells the story of what happens when a human comes to their world.  The three Fates are immortals, the ones who shape lives, and they live alone on a Greek island.  Aglaia, the mortal, has a tragic story, and the Fates getting involved with her can lead to disaster. The Fates know this as they also know they can't change destiny.  The story of Aglaia is the most interesting part to read and has a darkness much like any traditional Greek Tragedy.  THOUGHTS: Hahn has a beautiful, poetic style.  This book will appeal to students interested in Greek mythology but not many others because it reads a bit dry due to lack of adventure.  
Mythology      Rachel Gutzler, Wilson High School