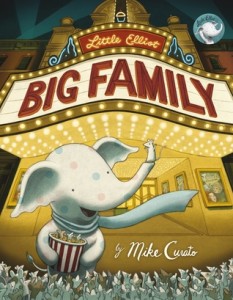 Curato, Mike. Little Elliot, Big Family. New York: Henry Holt, 2015. 978-0-8050-9826-6. 32 p. $17.99. Gr. K-2.
Little Elliot's friend Mouse leaves to attend his family reunion with his huge family of relatives. Elliot decides to go for a walk while Mouse is away, on which he observes families of all shapes and sizes doing all kinds of things. Through Curato's softly illustrated 2-page spreads, readers feel Elliot's longing for a family. Just as sadness descends on him, Mouse reappears and has Elliot join in the family reunion. A framed photo at the end includes Elliot in Mouse's extended family, subtly reminding readers that not all families are the same.  THOUGHTS: Read it for the adorable polka dot elephant readers fell in love with first in Little Elliot Big City, or read it for the deeper message of friendship and family – and how friends are often family too.
Picture Book      Lisa Weiss, Churchville Elementary School
Hall, Michael. Red: A Crayon's Story. New York: Greenwillow Books, 2015. 978-0062252074. 40 p. $17.99. Gr. K-2.
Red is actually a blue crayon, but his bright red label says otherwise. He desperately tries to "be" red, attempting to draw red things, but, naturally, they just don't look "right." His parents and others try to help him be more red, even having him combine with other colors (but unlike red and yellow, he can't make orange). By the end, with the help of a friend asking him to draw an ocean, he discovers his true self is indeed blue!  THOUGHTS: A unique spin on being unique, with its clever double meaning on how society assigns "labels", younger readers will love the story at face value, while older students will appreciate the message of being true to yourself! Pair this with Frankencrayon, the newest by Michael Hall (imagine a Horrible Harry "stub people" type) and The Day the Crayons (Quit and/or Came Home). It could make for some great discussion among the K-2 set!
Picture Book     Lisa Weiss, Churchville Elementary School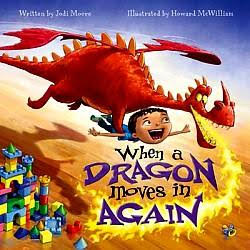 Moore, Jodi. When A Dragon Moves In Again. New York: Flashlight Press, 2015. 978-1-936261-35-2. unpaged. $17.95. Gr K-2.
The "imaginary" dragon who wreaked havoc on a beach with a confused boy in Jodi Moore's first book is back in the next great discussable book. Now the family is home, and a change is coming as a baby is on the way. The boy and dragon navigate a sea of emotions before and after the birth, often with energetic and chaotic results. The eruption finally happens when the dragon seems to side with the baby, and the boy demands that he get sent back. Moore captures a difficult stage for a child with honesty and curiosity; meanwhile, the playful illustrations by Howard McWilliam show more than words often can, including the dragon that may just exist in the house after all.  THOUGHTS: Jodi is a Central PA writer and does a fantastic job creating and sharing her work. Her energy is easy for the children to notice, and there is plenty of discussion questions and activities that can go with her books.
Picture book; Family      Dustin Brackbill, State College Area School District