Del Rio, Tania. Warren the 13th and the All-Seeing Eye. Philadelphia: Quirk Books, 2015. 9781584748035. 216p. $16.95. Gr. 3–6.
Even though he is only 12 years old, Warren the 13th is the sole heir to his family's once magnificent hotel. Unfortunately, the hotel has fallen on hard times since Warren's father died five years ago and since Warren's Uncle Rupert brought his bride, Aunt Annaconda, to stay. Annaconda is bent on locating the hotel's legendary hidden treasure, the All-Seeing Eye. When a mysterious bandaged guest checks in to the hotel, Annaconda is convinced the guest will locate the Eye before she does and a breakneck treasure hunt ensues. Warren is swept up in the action, hoping to locate his rightful inheritance before any other guest does. Along the way, he has to outsmart witches and monsters and puzzle out the answers to riddles, secret codes, and mazes. Although the storytelling is strong, this book's standout feature is its illustrations. Every page includes at least one red and black ink engraving illustration, and many pages also feature distinctive typefaces that emphasize certain story elements. The bright red cover will draw readers in, and they won't be disappointed by this creepy story.  THOUGHTS:  Readers will love this fast-paced book and its unique two-column page layout. They will eagerly join Warren on his hunt for the All-Seeing Eye, and they will wait with anticipation for the sequel, due out fall 2016. This title will be popular with readers who enjoy Brian Selznick's heavily-illustrated tales and with anyone seeking an original adventure.
Fantasy     Anne Bozievich, Friendship Elementary, Southern York County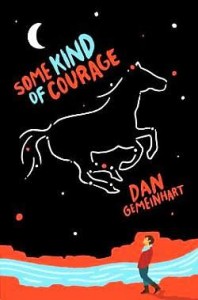 Gemeinhart, Dan. Some Kind of Courage. New York: Scholastic Books, 2016. 978-0-545-66577-3. 234 p. $16.99. Gr. 3-6.
The best cowboy tales are really quest stories, often motivated by loss or love or family. Some Kind of Courage takes place during the westward expansion in Washington state, and leads readers to quickly feel the danger and heartbreak that comes with frontier living. Joseph, a boy who lost everything, is determined to recover the one thing that remains – his horse, Sarah. So he heads out alone, though he quickly teams up with a Chinese boy who is also lonely and seeking something. The story moves quickly through many dangers and encounters, keeping the reader on edge and wishing for the best, even when that would be impossible. Dan Gemeinhart's sophomore novel has found success and resonance in the quest, just like The Honest Truth did last year.  THOUGHTS: Horse lovers and wild west fans will eat this up, but it would make a great introduction for others less familiar with the genre. As a read aloud and class discussion, this book can touch on topics of race, discrimination, cruelty, family, and of course, courage!
Historical Fiction (Western)       Dustin Brackbill, State College Area School District