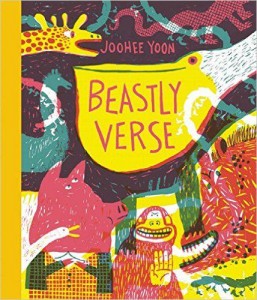 Yoon, JooHee. Beastly Verse. New York: Enchanted Lion, 2015. 978-1592701667. 48p. $16.00. Gr.K-5.
A collection of 16 animal poems from a wide variety of styles and authors such as Lewis Carroll, D.H. Lawrence, Laura Richards, and Robert Desnos. Selected for their childish appeal, this menagerie of creatures, both real and imagined, are elevated by Yoon's bold, bright, almost fluorescent 3-color illustrations which overlap to create additional shades, striking patterns and playful layouts. THOUGHTS: This creative display of verse, printmaking, drawing and color is a must for any children's poetry collection.
Poetry     Robin Bartley, Davis Elementary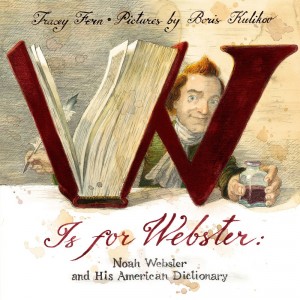 Fern, Tracey. W is for Webster. New York: Farrar Straus Books for Young Readers, 2015. 978-0-374-38240-7 32p. $17.99. Gr. K-4.
The famous Noah Webster was known from an early age to be a rather odd and unusual fellow. He was intrigued by words and often spoke in a "big way" using words like "overwhelmed with gloomy apprehensions" to mean afraid. Having grown up during the American Revolution, Webster saw a need for a way to unify the country. What better way than a national language, spelled and spoken the same way? Starting with a short collection, he sold his first book along the eastern states and gave speeches about his dictionary. After nearly twenty years (although he thought it would take only five), Webster created his famous collection of words. The story also gives insight into his schooling, marriage, and life outside of dictionary creation.  THOUGHTS: A well-written, at times humorous, look at how Webster created the famous dictionary. This would be an excellent addition to a collection to use when teaching about dictionary use or for teachers to use in the classroom for instruction on dictionaries. It could also be used in conjunction with colonial studies.
Biography   Lisa Weiss, Churchville Elementary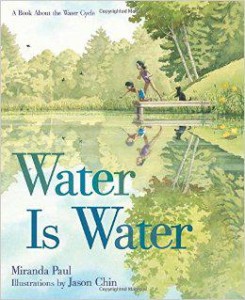 Paul, Miranda and Chin, Jason. Water is Water: A Book about the Water Cycle. New York: Harper Collins, 2015. 978-1596439849. 40p. $14.00 Gr. 1-5.
A clever text written in verse which follows a brother and sister through the year highlighting the different phases and forms of the water cycle: precipitation, evaporation, condensation, etc. At the back of the book is a "More About Water" section that contains more detailed information about the water cycle such as its forms, the percentages of water in plants and animals as well as its importance in our world and the need to protect and conserve it. THOUGHTS: Paul's book is an excellent resource for a unit on the Water Cycle which can provide a more practical view of the importance of water in students' everyday lives.
Water     Robin Bartley, Davis Elementary