Oppel, Kenneth. The Nest. New York: Simon & Schuster, 2015. 978-1481432320. 256p. $12.00. Gr. 5-8,
Steven is an anxious worrier with very vivid dreams. His baby brother Theo has been born with congenital defects which adds to his anxiety. When Steven is stung by a pale wasp and discovers that he is allergic, he begins having dreams of blurry creatures, which at first, he believes are angels who have come to heal the baby until it becomes clear that they are the very real wasps in the nest outside the baby's window and their purpose is not as pure as Steven had first thought. He realizes how crazy it sounds, so decides he must defeat them on his own. This first person psychological thriller keeps the reader guessing who is good, who is bad, and what it really means to be perfect. THOUGHTS: A gripping novel that at times makes your skin crawl.  Definitely not a book for sensitive readers.
Thriller    Robin Bartley, Davis Elementary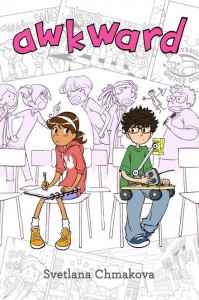 Chmakova, Svetlana. Awkward. New York: Yen Press, 2015. 978-0316381321. 224p. $20.00 Gr. 5-8.
This graphic novel depicts the awkward adolescent years. Peppi moves to a new school and on her first day pushes away the first kid who tries to help because she's afraid of being tagged a nerd. She immediately feels sorry and wants to apologize. Her art club and his science club feud over earning a spot in the upcoming school fair. Will she apologize? Will the groups learn to work together? Themes of kindness, diversity and understanding are woven through the book along with bright, fun illustrations. THOUGHTS: Awkward is a well written graphic novel with familiar themes which will resonate with middle readers.
Graphic Novel      Robin Bartley, Davis Elementary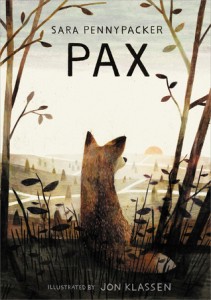 Pennypacker, Sara;  Jon Klassen, ill.  Pax.  New York: Balzer + Bray, 2016.  978-0-06-237701-2. 276 p. $16.99.  Grades 5-8.
Pax, the fox, has been a part of Peter's life since he was a young boy.  Shortly after his mother died, Peter found the orphaned kit and the two became inseparable.  When the story begins, Peter's father is going off to war (the time and place of the war is not specified).  Peter is sent to live with his grandfather and is forced to release Pax back into the wild.  Almost as soon as he arrives at his grandfather's, Peter knows that leaving Pax was a huge mistake; Pax is completely domesticated and will never survive.  Peter decides to go back home, over three hundred miles, to find Pax.
This story is told in chapters that alternate between Peter's and Pax's points of view.  While Peter is hiking over rough terrain, Pax is barely surviving on his own since he has no idea how to hunt or find water.  Peter breaks his foot after a fall and is taken in by a war amputee named Vola, while Pax receives help from a group of foxes who teach him how to live in the wild.  Over the course of their journeys, the boy and his fox change.  Peter develops a newfound maturity, while Pax becomes wild.  Eventually, the two are reunited with each other and with Peter's father, but nothing is the same as before.  THOUGHTS: Pax is reminiscent of many beloved boy and animal tales of the past, and it is destined to become a classic in its own right.  The spare, but eloquent, fox-speak used throughout the book conveys the horrors of war (maybe even more than human words).  This is a book that is accessible to everyone from middle grade students to adults.  Readers of all ages will cry over and love this story.
This story is beautiful both in content and its artwork.  Jon Klassen's drawings are placed throughout the book; the simple charcoal drawings set the mood of different scenes throughout the story.  Anti-war messages in literature are common, but the same message from the viewpoint of animals is especially poignant;  the foxes speak of humans being "war-sick" because war causes them to forget their humanity and the value of living things. This story of a boy and his pet has a bittersweet ending, but students will be relieved to see that Pax does live at the end of the story.  That being said, other animals do not survive the coming war and there is a painful scene at the beginning of the book involving a baby rabbit killed in a trap at Peter's home.  As a result, librarians might consider warning their more sensitive students that bad things do happen in the story.  Despite the tears that will surely fall, this is a breathtaking book that won't easily be forgotten.
Fantasy (Animal)         Susan Fox, Washington Jr./Sr. High School
Benjamin, Ali.  The Thing About Jellyfish.  Little, Brown, & Company, 2015.  978-0-316-38086-7.  343 p. $17.00.  Gr. 5-8.
Franny Jackson and Suzy "Zu" Swanson had been friends for many years, but as the girls enter middle school, Franny joins a clique of popular girls leaving her bright, but different, friend behind.  Zu spends a great deal of time trying to find the "old" Franny that she used to know.  In the critical summer between sixth and seventh grade, Franny drowns while on a family vacation.  When Zu finds out, she simply can't accept what the adults tell her, that sometimes these things "just happen."  Faced with profound grief and emotions she can't deal with, Zu almost completely stops talking.  One day, on a school field trip, Zu reads about the venomous Irukandji jellyfish.  She immediately decides that Franny must have been stung by this jellyfish because Franny was such a strong swimmer she never would have drowned. She immediately sets out to prove her hypothesis, writing a school research paper and secretly buying a plane ticket to Australia to visit a renowned expert on the Irukandji jellyfish.  Somehow, through the course of her 7th grade year, Zu comes out of her grief, and begins to find people who accept her for the odd and precious individual that she is.  THOUGHTS: The Thing About Jellyfish is a profound depiction of grief and the difficulties of growing up.  It tackles these subjects head on and the result isn't always pretty or easy to read.  The character of Zu will speak to many students, especially students who have experienced a similar loss (or even just the loss of a friendship).  The significance to the book might be lost on fifth and sixth-graders, but junior high and even high school students will enjoy it.
The reviews for this book were glowing; Booklist, Kirkus, Publisher's Weekly, VOYA, and the School Library Journal gave it starred reviews.  My personal feelings were less enthusiastic.  Zu is socially awkward, but her behavior is not endearing; in many circumstances she is self-absorbed and thoughtless.  Her divorced parents and older brother are concerned but, apart from making Zu go to a counselor, they seem unwilling to expend the effort to reach Zu through her grief.  Perhaps this is a book that is so realistic it is disturbing.  Adults need to read The Thing About Jellyfish to decide if it is appropriate to give to the young people in their lives.
The format of this book, which is told in different parts matched with the scientific process is both unique and interesting.
Realistic Fiction         Susan Fox, Washington Jr./Sr. High School