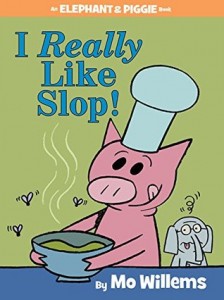 Willems, Mo. I Really Like Slop! New York: Hyperion, 2015. 978-1-4847-2262-6. 57p. $9.99. Gr. K-2.
Elephant and Piggie are back in a new adventure. This time, Piggie wants Gerald to try her slop. Since pigs REALLY love slop, she wants to share with her best friend. Gerald does not want to, as it seems to look and smell funny to him. Saying no hurts Piggie's feelings, though, so Gerald agrees to have a taste after all. However, the fish bones she offers for dessert gets a "Don't push it, bub!" from Gerald!  THOUGHTS: A wonderful new addition to the Elephant and Piggie series! Students will love the use of color and pattern when Gerald tries the slop. As always, a subtle lesson (in this case, about being willing to try new things) is taught with humor.
Picture Book     Lisa Weiss, Churchville Elementary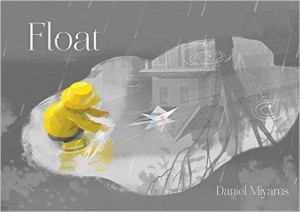 Miyares, Daniel. Float. New York: Simon & Schuster, 2015. 978-1481415248. 48p. $14.00. Gr.K-3.
This wordless picture book tells the adventures of a father and son making a newspaper boat. Dressed in bright yellow rain gear against a monochromatic background, the boy ventures outside to launch it. The illustrations show varying perspectives, including an aerial view, of the boy as he shields his boat from the rain, floats it in puddles, and chases it as it is swept down the street and into a storm drain. When he sulkily returns home with his soggy ruined boat, his father dries him, sits him down with hot chocolate, and helps him make a paper airplane…this time heading out into a now bright sunny yellow day! THOUGHTS: A beautiful, heartwarming visual journey of a small moment in a child's life, a lovely homage to Ezra Jack Keats' tales of Peter.
Wordless Picture Book     Robin Bartley, Davis Elementary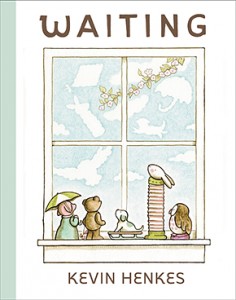 Henkes, Kevin. Waiting. New York: HarperCollins, 2015. 978-0062368430. 32p. $10.00. Gr. K-3.
Five toys: an owl waiting for the moon; a pig with an umbrella waiting for the rain; a bear with a kite waiting for the wind, and a puppy on a sled waiting for the snow, sit quietly on the windowsill. The soft pastels of clouds, rainbows, fireworks and rain, along with the repeating patterns of text, tell their story of patience and waiting as they each experience joy, sadness, surprise, friendship, gifts, and visitors. THOUGHTS: The story is profound, not in its moral or meaning, but in its ability to create this microcosm of pure childlike emotion with simple text and expressive illustrations.
Picture Book    Robin Bartley, Davis Elementary
Stead, Philip. Lenny & Lucy. New York: Roaring Brook Press, 2015. 978-1596439320. 40p. $14.00. Gr. K-2.
This is the story of Peter and his dog Harold who are moving to a new home. Peter thinks it is a terrible idea, and Harold would do something about it if he weren't a dog. Neither of them can sleep the first night because of their anxiety over the ominous dark woods and the bridge leading to them outside the new house. The next day, Peter decides to build a guard for the bridge from pillows and blankets and names him Lenny. This makes him worry less about the woods, but instead he worries that Lenny is lonely out there by himself. The next day he and Harold build Lucy to keep Lenny company. Peter and Harold pass the days playing with Lenny and Lucy and their new friend, Millie, from next door and rest better at night knowing that Lenny and Lucy guard the bridge, keeping the dark woods on the other side "where they belong". THOUGHTS: A quiet tale of resilience and friendship portrayed by a boy who uses his imagination and the comfort of friendship to help cope with his anxiety and fears.
Picture Book     Robin Bartley, Davis Elementary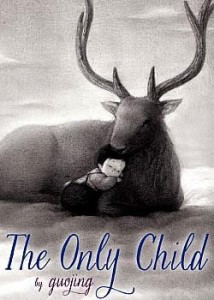 Guojing. The Only Child. New York: Schwartz & Wade Books, 2015.  978-0-553-49704-5. unpaged. $19.99. Gr K-2.
Family is important, but when you are an only child who is often alone or unattended, the isolation can lead to adventure or despair. Guojing was such a child in China, and wordlessly retells her emotional journey in this gently pencilled graphic novel. The child wanders out of her home and onto a bus with the intention of visiting her grandmother, but when she falls asleep on the ride, she is scared and alone in the woods at night. With turns of fantasy and humor and tenderness, the child journeys with a few animals to a cloud world and seeks the companionship that eventually can only come from a reunion with family.  THOUGHTS: The drawings are so soft and sweet that they may be lost on those who plow quickly though wordless books. But, those who take time for close reading and notice and note strategies will find plenty to unpack. The Only Child would also make a great comparison book with Raymond Briggs' The Snowman for two wordless worlds of wonder!
Wordless Picture Book    Dustin Brackbill, State College Area School District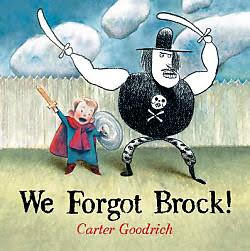 Goodrich, Carter. We Forgot Brock. New York: Simon & Schuster, 2015. 978-1-4424-8090-2. 42 unnumbered pages. $17.99. Gr K-2.
Imaginary characters are in vogue for kid lit at the moment, and We Forgot Brock fits nicely into the genre. As many stories like this go, Phillip's best friend can't be seen by his parents, but they play along with Brock's life anyway. Brock appears as if drawn by the boy, further separating him from the colorful watercolor "real world". A journey to the Big Fair together proves to be the catalyst for separation, and the panic is mutual between friends. Fortunately, a new pair of characters come along and care for Brock until the satisfying conclusion. Imaginary or not, characters who are creative in play and resourceful in times of need provide promising traits for young readers to discover.  THOUGHTS: Pair We Forgot Brock with The Adventures of Beekle for two different view of a similar topic. Children will be itching to remember (or create) their own "hard to see friends"!  
Picture Book    Dustin Brackbill, State College Area School District