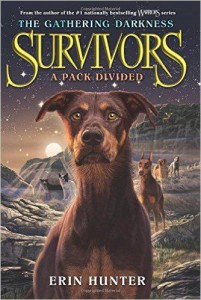 Hunter, Erin and Laszlo Kubinyi. Survivors: The Gathering Darkness #1: A Pack Divided. New York: HarperCollins, 2015. 978-0062343338 . 278p. $16.99. Gr. 4-8.
This is the first book in the brand new Survivors: The Gathering Darkness series, brought to us by bestselling author of the much loved Warriors series about cats. The protagonist, Storm, is a female "fierce" dog member of the Wild Pack. Within the pack there are rivalries and conflict that create tension in the story and keep readers turning the pages. The confrontations from pack members cause Storm to doubt herself and have vivid nightmares. Hunter continues to write high quality adventure with full character development and emotional depth. Highly recommended for lovers of fantasy, adventure, and animals, this volume contains a nice pictorial guide at the end to the dozens of Seekers, Warriors, and Survivors series. THOUGHTS: Even as an adult reader I find myself completely sucked into this fantasy world and enjoying every minute. I'd recommend readers start with the first 6 Survivor series books to get background on this story arc. Then, be prepared for your readers to complain that they must wait until summer 2016 to read the next Survivors: The Gathering Darkness book. Everything Warriors and Survivors are very big with fourth graders at my school.
Adventure, Animal Fantasy     Kathie Jackson, Plymouth Meeting Friends School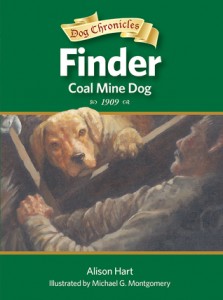 Hart, Alison. Finder: Coal Mine Dog. (Dog Chronicles) Atlanta: Peachtree, 2015. 176p. 978-156145-8608. $12.95. Gr. 4-8.
Finder, a mountain cur, narrates this story of a terrible coal mine disaster that killed 256 coal miners. At the story's start, however, he is training, unsuccessfully, to be a hunting dog. He sees his human family this way: "Uncle trains me. Aunt scolds me. Thomas loves me." It is the bond between fourteen-year-old Thomas and Finder that is the root of the story. Thomas is living with his aunt and uncle since his parents' deaths, and he's willing to help to make ends meet in tough 1909, Cherry, Illinois. He unhappily obeys his uncle's wish that he leave school and begin work in the coal mine. His one solace is that Finder can accompany him. The next few months prove startlingly harsh for the physical labor, negative health effects, and unrelenting debt, but they also provide new friends, a solid bond between Thomas and Finder, and a maturing for Thomas. When a fire starts in a coal car in the mines, it grows to disastrous proportions, and many men are killed or trapped. Thomas and Finder are inside the mine and help many of the men; some who live, some who die. The ending would make the protagonist of Korman's No More Dead Dogs proud—Finder and Thomas emerge from the mines, injured but offered new positions on the mine safety team. THOUGHTS: This is the third book in a stand-alone series, Dog Chronicles. Titles include: Darling, Mercy Dog of World War I (2013) and Murphy, Gold Rush Dog (2014). This is a decent upper elementary and middle school series that includes the grit of life as well as the joy of dogs. A teacher's guide is available from Titlewave.
Historical Fiction      Melissa Scott, Shenango High School