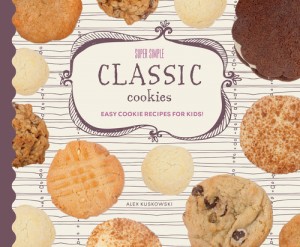 Kuskowski, Alex. Super Simple Cookies (series). Minneapolis: ABDO Publishing, 2016. 32 p. $18.95 ea. Gr. 3-6.
Super Simple Bar Cookies. 978-1-62403-946-1.
Super Simple Classic Cookies. 978-1-62403-947-8.
Super Simple Healthy Cookies. 978-1-62403-948-5.
Super Simple Holiday Cookies. 978-1-62403-949-2.
Super Simple No-Bake Cookies. 978-1-62403-950-8.
Super Simple Specialty Cookies. 978-1-62403-951-5.
This attractive series from ABDO gives recipes on various kinds of cookies. Each recipe includes ingredients, tools, and 3-8 steps with different levels of difficulty; both bake and no-bake choices are included. The directions are clear and concise. Some illustrations show how to accomplish different steps although not every step is illustrated. Each recipe includes a full-page close-up of finished cookies. Each book includes extensive extra material including a table of contents, information about cooking basics, how to measure and measurement conversions, illustrated cooking terms, and picture glossaries of kitchen utensils and ingredients. THOUGHTS: Kids will love these colorful books splashed with delicious-looking cookies and will be able to follow the steps to create their own.
641.86; Baking     Lindsey Long, Nye & Conewago Elementary Schools
Chandler, Matt. Top Ten Science. North Mankato, MN: Capstone Press, 2016. 32 p. $20.49 Grades 4-8.
The Science of Baseball: The Top Ten Ways Science Affects the Game.  978-14914-82186.
The Science of Hockey: The Top Ten Ways Science Affects the Game. 978-14914-82216.
These two titles are from Top Ten Science, a set of four books produced in partnership with Sports Illustrated Kids. (The other two titles, not reviewed here, focus on football and basketball.) Both books begin with a one-page introduction, alerting readers to the intriguing scientific questions that the sport raises. Baseball asks and answers: what makes a curveball curve; and how does air affect a batter's ability to hit a homerun? Hockey asks and answers: what makes a perfect slap shot; and how does ice quality affect the way the game is played? Both books stand out in the writing; each topic is given one-four pages rather than a quick one-page box plus obligatory sidebar photo. The writing seems to flow as one piece, not separate chapters, and the books wisely begin and end with some summary words. These are full-color, with excellent additions (Zamboni in Hockey, for instance) which prove interesting.  Each text also includes a glossary, index, "Read More" section, and useful internet sites for further exploration.  THOUGHTS: This is excellent for STEM connections, sports fans, and reluctant readers. It is easy to pick these up and read one or two chapters, but for any fan who has actually asked himself or herself these questions, the books will be hard not to read cover-to-cover.
796 Sports     Melissa Scott, Shenango High School