Cass, Kiera.  The Siren.  New York: HarperTeen, 2016.  978-0-06-239199-5.  $19.00. 327p. Grades 9 and up.
We've all heard the myths about the beautiful girls singing to sailors, calling them to death.  In The Siren, this well-known myth is revisited in a modern setting.  The Ocean enslaves girls to live with Her for a century.  The Ocean takes on a motherly role in these girls' lives, and they, in return, sing once a year to feed Her ever-present hunger.  When nineteen year-old Kahlen's cruise ship suddenly veers off course and the passengers all jump overboard, Kahlen begs for her life.  The Ocean answers by making her a Siren and giving her a 100 year sentence to live as an immortal.  Once Kahlen's time is up, she will once again become human and will have forgotten the past 100 years.  Kahlen is the perfect Siren, always making sure she obeys the rules and always does as the Ocean asks.  The only problem is that Kahlen hates it.  She has nightmares of the people who drown and feels responsible for their untimely deaths.  In her 80th year as a Siren, Kahlen falls in love complicating everything.  The question that remains is will she finally disobey the Ocean or will she continue to obey in hopes of saving the one she loves?  Thoughts: This is a surprisingly good book.  It's a fun take on a well-known, often visited, myth.  Cass creates likable, loving sirens who are more victims than evil.  The character of Kahlen is a bit angsty, but overall likeable. Cass notes in her acknowledgements that it is her first book, but only was able to publish it after the success of her other books.  I would recommend this to a student who is into mythology or a fan of Kiera Cass.
Mythology; Fantasy     Laura Ward, Fox Chapel Area HS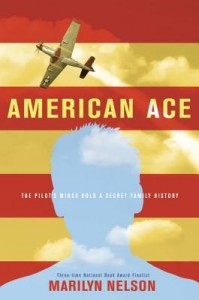 Nelson, Marilyn.  American Ace.  New York: Dial Books, 2016.  978-0-8037-3305-3.  $18.00. 122p. Grades 7 and up.
Connor Bianchini knows some things in life are certain, and his heritage is one of them; he's 50% Irish and 50% Italian.  That is until his grandmother, Nonna Lucia,  on his father's side passes away leaving his dad in a deep depression.  It's not until Thanksgiving that his father tells the family the source of his sadness.  Nonna Lucia left him with a letter, a class ring, and pilot's wings.  The letter said that she fell in love with an American, and he was a result of their forbidden love.  Connor and his father set out to gather as much as they can about their new family member with what little clues they have.  The story unfolds in a series of short poems.  Often, the poetry's focus turns solely to the Tuskegee Airman and not directly about Connor and his father's research and journey.  The book never tells who Connor's biological grandfather is but, he does grow and mature as he learns more about his heritage.   Thoughts:  This would be a great addition to a poetry unit in middle school or early high school.  The male voice and historical aspects are appealing to both boys and girls making it a great compliment in the classroom.  
Historical Fiction; Verse     Laura Ward, Fox Chapel Area HS