Mason, Conrad. The Watchmen of Port Fayt. New York: Scholastic, 2015. 978-0-545-83308-0. $17.99. 389 p. Gr. 5-8.
Port Fayte is a relatively quiet town where humans, trolls, and imps reside together.  They live in relative harmony, minus the occasional tavern brawl.  One of the town's more endearing citizens is Grubb, half human and half goblin, who works for his abusive uncle at the Legless Mermaid.  He dreams of one day escaping the gruelling work and numerous head-cuffings to pursue his own dreams, possibly on the open sea.  When a chance meeting with a smuggler offers Grubb a remarkable opportunity, he takes off after Captain Clagg.  Meanwhile the Demon's Watch, a clandestine group of fighters, has sworn to protect the port town and are interested in questioning the legendary Clagg about his most recent load of cargo.  On the other side of the world, the League of Light has Port Fayte in its sights.  Determined to preserve a pure race of humans, they have vowed to purge the planet of every last troll, ogre, elf, fairy and goblin.  Grubb's adventure sends him into the bowels of the shark pit, brings him face-to-face with an iniquitous witch, and lands him in the middle of the Demon's Watch.  Together he and Tabitha, one of the Watch's youngest members with a most tragic history, must join forces with smugglers, blackcoats and watchmen to find the enchanted wooden spoon before it falls into the wrong hands.  If the Maw is awakened, Fayters will be destroyed and their beloved town eviscerated.  THOUGHTS: The first title in the Tales of Fayt trilogy promises to captivate readers and lure them into a story of friendship and exciting exploits while anxiously awaiting the next installment.
Fantasy     Christine Massey, JWP Middle School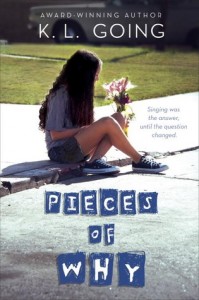 Going, K.L. Pieces of Why. New York: Kathy Dawson Books, 2015. 978-0-8037-3474-6. $16.99. 209 p. Gr. 5-8.
Singing with her best friend Keisha in the Rainbow Choir is the highlight of Tia's day.  Since her dad's imprisonment years ago, Tia's mom works hard to support her daughter and misses her daughter's performances. Keisha's family helps out by inviting her to dinner or walking her home from choir practice.   During a rehearsal, Tia is singing her solo, "like a magician pulling scarves from my sleeve," until her melody is shattered by the sound of gunshots.  At once believed to be simply more gang violence, this tragedy rocks the community when they learn a stray bullet has taken the life of an innocent infant.  Suddenly the neighbors are buzzing with rumors of a similar catastrophe, and Tia learns more details surrounding the fatal shooting her father was involved in, something her mother has devoted her life to keeping hidden from her daughter.  Tia hopes she can leave the shadows and miraculously come to rest in the light, but trouble has a way of creeping into your life when it's least expected.  She will have to confront her father and his harrowing past for a chance at following her dream of becoming a famous singer.  THOUGHTS:  An honest portrayal of tragedy and forgiveness that allows a young girl to let go of her guilt and learn to love her father.
Realistic Fiction   Christine Massey, JWP Middle School