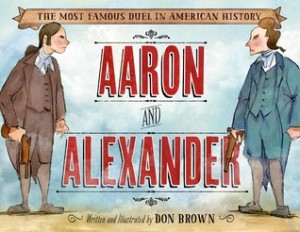 Brown, Don. Aaron and Alexander: The Most Famous Duel in American History. New York: Roaring Brook Press, 2015. 978-1-59643-998-6. Unpaged. $17.99. Gr. K-5.
Aaron Burr and Alexander Hamilton's lives paralleled each other's in many ways; they were both orphaned at a young age; they were both very smart and studied at prestigious American universities; they both served bravely in the colonists' battle against Great Britain; they were even alike in size, having the word "little" as part of their nicknames. Author Don Brown says, "Aaron and Alexander could have been friends. They were alike in many ways. But the ways in which they were different made them the worst of enemies." The two men ended up on opposite sides of the political line after the American Revolution and influential, but hot-tempered, Hamilton often insulted Burr's politics and character in vicious ways. The day arrived when Burr could take no more, and he challenged Hamilton to a duel in which Burr fatally shot Hamilton. Brown shares an unbiased view of the notorious duel that left Hamilton dead and Burr an outcast. The book contains an Author's Note and bibliography. THOUGHTS: Brown's signature style of concise wording and expressive watercolors succeeds in sharing a parallel of two important American figures and their tragic end.
973.4; Picture Book     Lindsey Long, Nye & Conewago Elementary Schools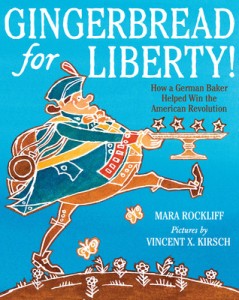 Rockliff, Mara. Gingerbread for Liberty: How a German Baker Helped Win the American Revolution.  Boston: Houghton Mifflin Harcourt, 2015. 978-0-544-13001-2. 32pp. $17.99. Gr 2–5.
Christopher Ludwick was a Philadelphia-based baker known all over the city for his big heart and his delicious gingerbread. Hungry children followed their noses to his shop, admiring the spicy cookies decorated with sweet, white icing. But in the summer of 1776, something other than the smell of gingerbread was in the air. Cries of "Revolution!" echoed up and down the streets. Ludwick, who was born in Germany, was a staunch Patriot. At age 55, he hung up his apron and volunteered his services to General Washington. After learning that Washington's troops were threatening to leave due to lack of food, Ludwick rolled up his sleeves and fired up his oven. Throughout the Revolutionary War, Ludwick continued baking, and not just for the Continental Army. He volunteered for a secret, midnight mission to a British army camp where he successfully convinced hired Hessian soldiers to abandon the British troops and enlist with General Washington after promising them full bellies. At the war's end, after the British surrendered, Ludwick baked 6,000 pounds of bread to feed America's hungry former enemies before returning to Philadelphia and his bakery.  THOUGHTS:  This picture book biography of a little-known Revolutionary War hero is a wonderful addition to elementary collections. An author's note at the end of the book outlines additional details about Ludwick's life, and the endpapers include a recipe for baking gingerbread. While the story itself is unique, the illustrations steal the show. Illustrator Vincent Kirsch's spirited watercolor pictures depict all characters as gingerbread people, and he sticks to a palate of mostly brown with white details. This title provides an accessible introduction to the American Revolution for the youngest readers while also showcasing a forgotten hero's kind spirit and large heart.
Picture Book Biography   Anne Bozievich, Friendship Elementary, Southern York County