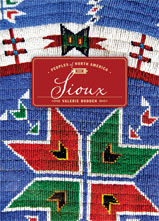 Peoples of North America. Mankato, MN: Creative Education, 2016. $26.95 ea. 48p. Gr. 7 and up.
Bodden, Valerie. Apache. 978-1-60818-550-4.
Bodden, Valerie. Cherokee. 978-1-60818-551-1.
Bodden, Valerie. Navajo. 978-1-60818-553-5.
Bodden, Valerie. Nez Perce. 978-1-60818-554-2.
Bodden, Valerie. Sioux. 978-1-60818-555-9.
Potts, Steve. Iroquois. 978-1-608181-552-8.
Peoples of North America focuses on the importance of various tribes of North America, a subject not often covered for junior high and high school students.  Each title in this series focuses on a different tribe and includes the history of the tribe, lifestyle, traditions and culture, and the changes the tribe has faced due to westward expansion and the development of the United States (historically and today).  A traditional story from the tribe ends each title, which also includes end notes, a selected bibliography, information for further research, and an index.  The inclusion of photographs, both color and black and white, and illustrations enhance reader understanding of the importance of each tribe to American history and culture.  THOUGHTS:  Not many books are written about Native Americans for high school students, and it seems that these people, who are most important to our history, are often overlooked or quickly taught.  This is series is excellent for research projects and general reading to find out more about Native Americans and their impact in history and today.
American History; Native Americans      Erin Parkinson, Lincoln JSHS, Ellwood City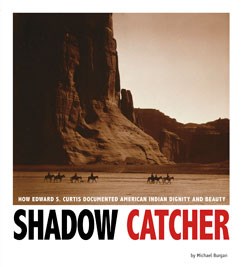 Captured History. North Mankato, MN: Compass Point Books, 2015. $25.49 ea. 64p. Gr. 6 and up.
Burgan, Michael. Shadow Catcher: How Edward S. Curtis Documented American Indian Dignity and Beauty. 978-0-7565-4992-3.
Nardo, Don. The Golden Spike: How a Photograph Celebrated the Transcontinental Railroad. 978-0-7565-4991-6.
Captured History is one of the best series for middle and high school students.  Begun in 2011, this year's additions, Shadow Catcher and The Golden Spike, only reinforce the importance of this series to support curriculum, research, and curiosity.  Each title in this series explores a specific aspect of American history through the photographs (by a specific photographer) from the situation and/or period.  Titles are broken into four chapters focused on the history, the event, and the impact on society today along with a timeline, glossary, additional resources, source notes, a selected bibliography, and index.  The use of border white-space enhances the text and photographs in order to fully grasp the event being explained.  The photography is beautiful and is a great way to help teach primary sources and visual reading.  The two new titles are especially important because they focus on historic events that are often overlooked or quickly taught in U.S. History courses: Native Americans and the Transcontinental Railroad.  THOUGHTS:  Captured History is a MUST-HAVE series for all school libraries.
American History      Erin Parkinson, Lincoln JSHS, Ellwood City