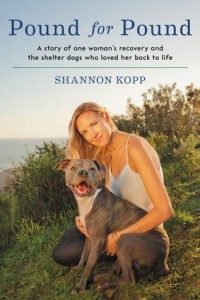 Kopp, Shannon. Pound for Pound. New York: William Morrow, 2015. 978-06-237022-8. 288p.  $25.99. Gr. 9 and up.
In this memoir author Shannon Kopp shares her story of of recovery from an eating disorder and how she drew strength in her her recovery by working with shelter dogs, particularly pit bulls.  Growing up in a dysfunctional home (her father was an alcoholic), Kopp suffered from bulimia throughout her teen years and into her early twenties.  In and out of rehabilitation and treatment programs to no avail, she eventually began to turn her life around when she got a job working with shelter dogs at the SPCA.  The loving relationships she establishes with the dogs she works with (particularly pit bulls) gives her the strength to work through her relapses and begin to heal.  In the process she also discovered her calling – working as an animal welfare activist and finding homes for shelter dogs.  THOUGHTS:  Kopp is a first time writer, and at times that shows in the occasional awkward passage.  However, her struggles with bulimia and her deep passion for dogs are sincerely communicated.  Those who enjoy true-life stories of those who face obstacles or those who share a bond with animals may enjoy this memoir.  Be advised: Kopp does not shy away in her descriptions of her bulimic experiences.     
921 Memoir      Elizabeth Henry, Lampeter-Strasburg HS/MS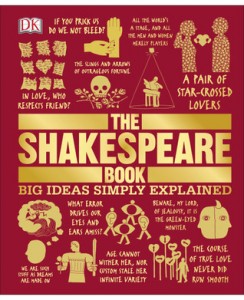 The Shakespeare Book. New York: DK, 2015. 978-1-4654-2987-2. 352 p. $25.00. Gr. 7-12.
The cover of this book says it all: "Big Ideas Simply Explained." The Shakespeare Book offers readers an easy to understand overview of each of Shakespeare's plays (and major poems).  A brief biographical introduction to Shakespeare is also included.  Each chapter presents a timeline of the events in the play, a summary of the plot, and a description of major characters.  Major themes are identified and discussed.  In addition, Shakespeare's influences/inspirations in writing each play are identified.  Most chapters are four pages long, however major plays (Macbeth, Romeo & Juliet,Hamlet, etc.) have lengthier entries.  The text is supplemented by a variety of high-quality color photos and illustrations of Shakespearean productions.  Charts are also included to help explain major plot points and character relationships (for example, the entry on Romeo & Juliet features a family tree that outlines the relationships between the characters).  THOUGHTS:  This volume offers libraries an affordable and reader friendly overview of the works of William Shakespeare.  While the average chapter may only be four pages long, quite a bit of information is included within those pages.  Of particular note are the discussion of themes within each play and the illustrations, particularly the informative charts.  Readers with an interest in Shakespeare's poetry may also find the chapters on major Shakespearean poems/sonnets informative.
822.33 Literature        Elizabeth Henry, Lampeter-Strasburg HS/MS