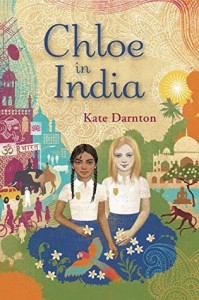 Darnton, Kate. Chloe in India. New York: Delacorte, 2016. 978-0-553-53504-4. 224p. $19.99. Gr. 6-8.
Hoping to show their daughters, 15 year old Anna, 11 year old Chloe and baby Lucy, a different way of life, the Jones family moves from Boston , Massachusetts, to New Delhi, India. Change is difficult for Chloe who is one of the few students with blonde hair.  School is different too, as students sit on the floor more often in classes and report cards are hand delivered once a month with at least 70 different grades. Chloe hopes to be friends with Anvi and be invited to do activities together. A new student, Lakshmi, is called "stinky" by Anvi. Anna, now a uniform monitor, informs the family that Lakshmi is from the EWS, emotional weaker section. While Chloe misses and Skypes her best friend from Boston, it feels like their friendship is weakening to Chloe. Outside of school, Chloe spends time with Lakshmi. Chloe is shocked to learns that families in India would never have three children due to overpopulation. At first her mother is excited to see a revolution as poorer citizens have a chance for first rate education, but her mother is repulsed by the excess wealth that many families have in the area and especially at Aniv's over the top birthday party. As Annual Day draws closer, Chloe and Lakshmi practice frequently outside of school. Their practice leads to great dancing, and Anvi does not get the lead dance role. In the restroom Chloe tells Anvi that she is not friends with Lakshmi. Shortly later, a bathroom door opens, and Lakshmi walks out having heard the entire conversation. It is her older sister who helps make things right in her friendship with Lakshmi. The sisters learn more about housing and corruption of wealth in the process.  THOUGHTS: Many students experience the uncertainties of moving around the state or throughout the United States. Not as many students are uprooted to another country and this book allows students to see what it might be like to be an outsider experiencing a new culture.  The mother at times is worked up about her writing deadline or concerned about social justice and has a curse word-reaction, once her dad does this as well. Chloe doesn't like when she hears either parent swear. This book offer a realistic story of a moving, friendship and standing up for social justice.
Realistic Fiction    Beth McGuire, Wendover MS
Norriss, Andrew. Friends for Life. New York: Scholastic, 2015. 978-0-545-85186-2. 234p. $17.99. Gr. 6-8.
Francis is fine eating lunch alone but would prefer that others not talk about his passion of fashion and creation of doll clothes. After a year of being a ghost and having no communication with anyone, Jessica is shocked that Francis can see, hear, and communicate with her.  Then shortly after, new neighbor Andi, "Thug, Thugette," can see Jessica. The parents of Andi and Francis are shocked that their kids get along.  Andi doesn't find Francis' hobby odd as a relative makes a living designing clothes, but she has a hard time being teased regarding her appearance. Previously, Andi got in a lot of fights at school and at the new school she puts a stop to Quintin teasing. Both Francis and Andi wonder how Jessica passed and when they try to learn, Jessica is gone for several days. Any time they bring it up Jessica fades away. Francis is called to motivate a boy to go to school, and he is large in stature. This boy, Roland, can also see and hear Jessica.  Roland discovers the truth that Jessica committed suicide. All of those that can see Jessica seriously contemplate(d) suicide.  At the hospital, Jessica is able to stop a suicide, and she completes her journey. THOUGHTS:  This book reminds readers not to be afraid to talk or listen to one another. Your actions can help or hurt others greatly without your knowledge.
Realistic Fiction   Beth McGuire, Wendover Middle School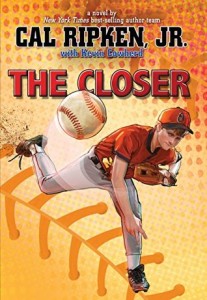 Ripken, Carl, Jr. and Kevin Cowherd. The Closer. Los Angeles: Disney, 2016. 978-142317868-2. 200p. $16.99. Gr. 6-8.
Danny, going into eighth grade, is having a difficult time finding the correct pitches and stamina to be a consistent pitcher. Mickey, the catcher, is his best friend. His other teammate, Katelyn, confuses him as she invites the entire baseball team to her bowling birthday party. As Danny struggles to find his niche with baseball, his older brother, Joey, is a phenomenal high school senior pitcher with talent, bringing scouts from all over to watch his playing. At home, Danny accidentally breaks the window of his new and octogenarian neighbor, Mr. Spinelli. To his surprise, Mr. Spinelli offers Danny advice and teaches him a eephus pitch. Danny seems to have a handle on the pitch and posts his pitching which goes viral and gets him interviewed by local news outlets. When his special pitch, nicknamed "terminator", stops working, Mickey asks Elmo for scientific help. Eventually Danny asks Mr. Spinelli for help about baseball and then about art. Relationships highlight the jealousy between siblings that can exist and the friendship that can be developed with others if you just try. THOUGHTS: This book is like The Pigman meets Finding Buck McHenry! Students that enjoy realistic or sport fiction will be sure to like The Closer.
Realistic Fiction; Sports     Beth McGuire, Wendover Middle School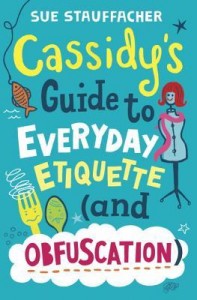 Stauffacher, Sue. Cassidy's Guide to Everyday Etiquette (and Obfuscation). New York: Knopf, 2015. 978-0-375-83097-6. 294p. $16.99. Gr. 6-8.
Eleven-year old Cassidy looks forward to summer. She enjoys spending time in nature, making pranks with Jack, and wandering like a hobo. It is just her rotten luck that when her great-grandmother passes her dying wish is for Cassidy to attend etiquette school while her older sister attends a forensic science class. Each chapter has a title and lively place settings, adding to the mood of the story. Cassidy is surprised that Delton, a smart and quiet classmate, is also enrolled in the etiquette course. They both struggle with the lessons providing humor to the readers. As the story progresses, Cassidy misses Jack and wonders why he is working so hard with lawn care and saving money. Etiquette lessons are the last place Cassidy wants to be during her summer, but it a rewarding experience for her. THOUGHTS:  This book is a fun summer read. It demonstrates that sometimes what one thinks will be terrible, such as etiquette lessons during summer, may not turn out that way.
Realistic Fiction   Beth McGuire, Wendover Middle School