Albright, Emily. The Heir and the Spare. Blue Ash: Merit Press, 2016. 978-1-4405-9010-9. 287 p. $17.99. Gr. 9-12.
Evie has traveled from Seattle to England to attend Oxford University for her sophomore year of college. Not only is she at Oxford to further her education, she is also there to fulfill a mission given to her by her mother. Prior to her mother's death from cancer when Evie was young, she left a series of letters for her daughter that lead Evie to England with the goal of learning more about her mother's family. At school, Evie befriends a group of students that includes Edmund, the second in line the to the British throne. As the two grow closer, Edmund assists Evie with her investigation into her family tree. While sparks fly between Evie and Prince Edmund, the realities of royal obligations and her status as (gasp!) an American seem to make the possibility of a relationship between the two impossible.  Will the pair be able to overcome these obstacles?  THOUGHTS: This enjoyable and quick read is perfect for fans of contemporary romance novels (who may have dreams of meeting their own Prince Charming someday). Those in search of a light-hearted read with a fairy-tale ending will not be disappointed.  
Realistic Fiction      Elizabeth Henry, Lampeter-Strasburg HS/MS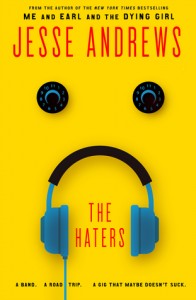 Andrews, Jesse. The Haters. New York: Harry N. Abrams, 2016. 978-1419720789. 336 p. $18.95. Gr. 11 and up.
In his debut novel Me and Earl and the Dying Girl, Jesse Andrews showed that he does not follow conventions for YA literature, and he keeps up that trend with this second title for young adults. The Haters is bold, brash, and unapologetically shocking and funny, much like the band of misfits at the center of this coming-of-age novel. Wes and his best friend, Corey, attending summer jazz camp for the first time, quickly realize that they are out of their element, both musically and personality-wise. They quickly meet and bond with another outsider, the beautiful and enigmatic Ash, and after an epic jam session decide that they will bust out of jazz camp and take their "band" on tour. Leaving their cell phones behind, they take off not knowing where to play but figuring that they will just play it by ear and find gigs as they go along. Needless to say, this well-thought out plan does not go as they had hoped, and troubles pile up. Budding musicians will love the musical jargon employed, but those not musically inclined will be able to follow along easily. The dialogue is often written similar to a screenplay, and Andrews seamlessly melds this unique style with the narrative in an interesting and refreshing way. The plot does move quickly and somewhat crazily as the trio bounces around from place to place and hooks up in the process. This is not a John Green novel- there are sex scenes, drug use, and frequent dirty joke battles. It is the relationships among the characters and Wes's personal realization and growth that drive this novel forward and elevate it from simply being an outrageous teen road trip. THOUGHTS: Give this novel to mature students who want to branch out from the general YA fare and are willing to ride along on this crazy trip.
Realistic Fiction         Lindsey Myers, Shady Side Academy Senior School
I have been a Jesse Andrews fan from the beginning- Me and Earl and the Dying Girl had me laughing from page one, and his second novel is no different. His novels are somewhat shocking but generally hilarious, which can be a much-needed break from the teen angst and/or fantasy that permeates YA literature. I was not sure what to think of this novel while I was reading it, but I am glad that I stuck with it. It grew on me, as did the character of Wes, whose relationship with his somewhat absent parents plays a major role in his evolution. Wes is often accused by his friends of being sacrificial and willing to play the role of peacemaker. I truly enjoyed watching him evolve as a character, and navigate his relationships with his family and friends. I doubt that it will take long for this story to be adapted for film, and I can't wait to see it!
Vivian, Siobhan. The Last Boy and Girl in the World. New York: Simon and Schuster, 2016. 978-1481452298. 432 p. $17.99. Gr. 9 and up.
Siobhan Vivian, author of the popular title The List, has written an engaging and thought-provoking novel about how relationships change and evolve in unique life situations. Keeley Hewitt lives in Aberdeen, a small town where nothing much ever happens. She has always been an odd girl out, clowning around while her best friend focuses her attention on boys. But, when senior heartthrob Jesse Ford starts to take an interest in her, she suddenly finds herself in the middle of a budding relationship. The new romance, however, isn't the only thing happening in Keeley's life; due to an unseasonably cold and rainy spring, the local river has surged and threatens flooding in the town. Keeley's dad takes a central role in the story at this point, rallying the townspeople against following the government's requests to relocate the town.  Keeley divides her time between hanging out with her friends and helping the Sheriff's son Levi clear out abandoned houses. Vivian focuses as much of her attention on Keeley's relationship with her best friend as she does her budding romance with Jesse and interactions with Levi. This gives the novel a well-rounded approach and presents more character development as the final rains come to wash the town away for good.  THOUGHTS: This is a fun and interesting read for teens wanting a bit more than the generic teen love story. Recommended for fans of Sarah Dessen and John Green.
Realistic Fiction        Lindsey Myers, Shady Side Academy Senior School
I love Siobhan Vivian's writing, and I eagerly anticipated her new novel. She actually lives in my hometown, so in April I was able to attend the book launch. People of all ages attended the event, and it was great to see how far-reaching and inclusive YA literature has become. YA literature seems to be slowly losing the stigma of being exclusively for the teen set, and people of an older age are more willing to publicly express their interest in and love of the genre. Also, Siobhan Vivian is simply wonderful in person! A few weeks after the book launch, she came to my school and held a writer's workshop for about 12 interested students. It was a great experience for them to hear from a real writer and to participate in the activities that she had planned. I highly recommend inviting her to your school, or at least holding a Skype conversation with her (I have done both!). She is as interesting and engaging as her books. Her contact information is on her website: http://www.siobhanvivian.com/. You are also welcome to email me to learn more about how I have connected her with students.