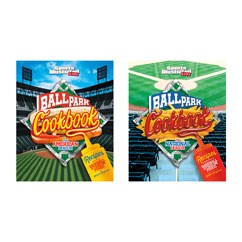 Jorgensen, Katrina. Ballpark Cookbooks (Sports Illustrated for Kids series).  North Mankato, MN: Capstone. 2016. 64p. $23.49 ea.  Gr 6 and up.
Ball Park Cookbook: The American League:  Recipes Inspired by Baseball Stadium Foods.  978-1-4914-8232-2.
Ball Park Cookbook: The National League: Recipes Inspired by Baseball Stadium Foods.  978-1-4914-8233-9.
Ballpark Cookbooks, from Sports Illustrated Kid, teach students how to cook some of the signature dishes served at baseball stadiums throughout the country.  Each entry in the books features the team's ballpark statistics.  When was the park built?  Where is it located?  What is the seating capacity of the stadium?  The entries also include interesting background information; the entry for PNC Park in Pittsburgh has a sidebar discussing the importance of Heinz condiments to the city.  The entry for Citizens Bank Park in Philadelphia talks about the "Great Cheesesteak Debate."  Baseball-shaped factoids talk about interesting rituals different players have and ballpark-related trivia.  As for the recipes themselves, each one features an attractive photograph of the finished product, clear directions for making the recipe, and a comprehensive ingredient list.
I would recommend these cookbooks for junior and senior high students largely because they employ cooking techniques that younger children should not try without adult supervision.  There are also a number of ingredients that most families will not have on hand including things like deveined shrimp, yeast, and exotic spices.  It is important to note that the author of these books is a graduate of Le Cordon Bleu College of Culinary Arts, so the recipes have a level of sophistication usually not seen in children's cookbooks.  THOUGHTS: These books are a feast for the eyes.  They are well-organized, have colorful pictures of the recipes/ballparks, and the trivia entries are engaging.  I do think that young people will need supervision while making many of the recipes, but it would be good family fun to cook a ballpark style dinner before "the big game."  I consider these books to be a valuable addition to school libraries, especially since they will appeal to young men who might not otherwise pick up a cookbook.
641.5; Cookbook           Susan E. Fox, Washington Park School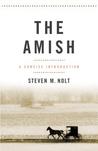 Nolt, Steven M. The Amish: a concise introduction. Baltimore: Johns Hopkins UP, 2016. 978-1-4214-1956-5. 141p. $16.95. Gr. 9 and up.
The Amish remain a curiosity to many Americans (especially those who do not live in communities where Amish populations are present). Many misconceptions abound about Amish life, such as all Amish teens are wild rabble-rousers or that shunning is a common occurrence within the Amish church. Professor Steven Nolt aims to clearly explain the Amish culture and beliefs in this brief  introductory text. The development and history of the Amish religion in Europe is presented as well as the group's immigration to America. Also discussed are the basics of Amish religious beliefs and practices. Family life, schooling, work, and the role of the Amish in their greater community are also explained. A chapter on the Amish and the modern media discusses how the Amish are portrayed in film and television. The text is supplemented by photos, maps,  charts, and appendices. THOUGHTS: Though written for the adult reader, the text of this book is quite accessible and can easily be understood by high schoolers.The basics of Amish beliefs clearly explained and common misconceptions are also addressed. Also of note is the discussion of Amish use/non-use of current technologies, which is not present in older works on the Amish. Recommended for schools where the Amish may be discussed in religion or history class, or where Amish are present in the greater community.
289.73; Religion       Elizabeth Henry, Lampeter-Strasburg HS/MS