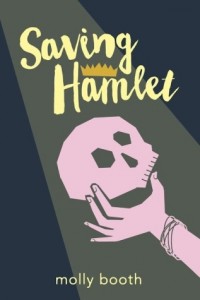 Booth, Molly.  Saving Hamlet.  New York: Hyperion, 2016.  978-1-48475-274-6.  $17.99.  352p.  Grade 7 and up.
Former high school soccer star Emma Allen needs to reinvent herself after a team party disaster and a major summer theater equipment malfunction.  Emma gets her waist-length hair cut into a super-short, super-chic, pixie style, and suddenly, things begin to change.  Emma's behind-the-scenes stage crew role has grown; after a classmate moves, she is named the stage manager of the school's annual fall Shakespeare play.  Emma's best friend, Lulu, is dealing with her own difficulties; she is put on lockdown by her conservative parents after being caught kissing another girl.  Lulu also blames Emma, in part, for her being cast as Ophelia in the school's Production of Hamlet (Lulu desperately wanted the title role).  Josh, a handsome school athlete who gets the role of Hamlet, is terrible.  Emma and the other directors begin trying desperately to save what appears to be a cursed production.  
One evening, after a long day of rehearsals, Emma is distracted and falls through the stage's trap door.  The fall takes Emma back in time to the Globe Theatre in 1601.  At the Globe, Emma is mistaken as a boy, which gives her the ability to observe the original Shakespeare production.  She is able to travel between the two worlds via the trapdoor and brings what she has learned from that production to the present day.  In the end, she also brings her knowledge of present day Hamlet to save the Globe's production of the show.  THOUGHTS:  This enjoyable book seems to have it all; a school play, romance, time travel, and teen drama.  Emma is highly likeable, the characters are diverse without being stereotypical, and anyone who has ever been involved in school theater can agree that the story rings true.  I would recommend this book for all junior or senior high school libraries.  It may actually help to make Shakespeare "cool" again.
I enjoyed the fact that Emma is not an actor; this book gave well-deserved recognition to the people behind the scenes in a theatre production.  The book also touched on some of the deeper themes in Hamlet, and students who are reading the play for school might enjoy the insight Saving Hamlet can give.  Two of the characters in this book are gay, and the treatment of these characters is excellent; the characters are shown to be typical high school age students who have the same hopes and trials that any teen would have.  Emma is a witty and intelligent young lady.  I hope we see more of her in the future.
Realistic Fiction; Fantasy              Susan Fox, Washington Park School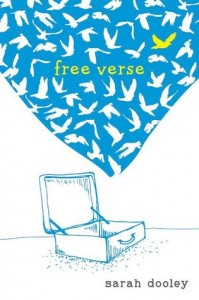 Dooley, Sarah. Free Verse. New York: G.P. Putnam's Sons, 2016. 978-0399-165030. 335 pp. $16.99. Gr. 6-9.
Sasha lives in the grimy coal-town of Caboose, West Virginia, a place she and her older brother Michael can't wait to leave.  But Sasha's mother ran off when she was five, her father died in a mine accident when she was eight, and Michael just died fighting a fire.  It's too much for one thirteen-year-old to manage, and Sasha struggles with anger and the foster system and this…place.  Fortunately for her, foster mom Phyllis stays steady and encouraging through Sasha's rages and disappearances, and distant relatives she never knew live just next door.  She struggles and grows, thanks to careful, caring adults, and thanks to her discovery of poetry.  But when another tragedy occurs, will it all be too much?  THOUGHTS: A strong, finely told novel, the poetry and the prose delight and reveal Sasha's character incredibly well. This is beautiful poetry and a strong award contender.  Recommended for middle school readers and up.
Realistic Fiction    Melissa Scott, Shenango High School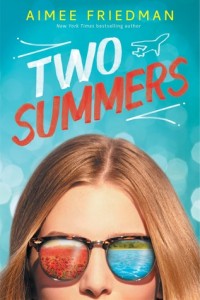 Friedman, Aimee. Two Summers. New York: Scholastic, 2016. 978-1-338-03571-1. 355p. $7.99. Gr. 7-10.
Summer Everett can barely contain her excitement; she is going to spend her summer visiting her artist father in France! Since her parents divorced several years earlier, her relationship with her father hasn't been close; he's not much of a communicator. But, Summer's looking forward to reconnecting with him, despite her mother's qualms about the trip. Right before boarding her plane to France, Summer receives a phone call from an unknown caller. Should she answer the call? It is at this point that the storyline of Two Summers diverges. In one storyline Summer doesn't answer the call and continues on her journey to France. In the other storyline, Summer answers the phone only to discover that her father is cancelling her visit, and she will have to stay at home in Hudsonville, New York over the summer. Though the settings for both storylines could not be more different, in both, Summer will find romance, discover a passion for photography and learn family secrets long hidden. THOUGHTS: This quick and enjoyable read is perfect for readers who enjoy contemporary YA lit with a dash of romance. The alternating parallel storylines will keep readers engaged as they discover how Summer's snap decision not to answer a phone call might change some elements of her summer vacation, but other parts of her vacation seem destined to occur, not matter what her location.
Realistic Fiction         Elizabeth Henry, Lampeter-Strasburg HS/MS