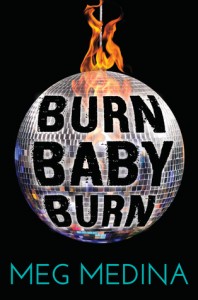 Medina, Meg. Burn Baby Burn. Somerville, MA: Candlewick Press, 2016. 978-0-7636-7467-0. 310pp. $17.99. Grades 8 and up.
In this gripping coming-of-age novel, Meg Medina brings 1977 New York City vividly to life with a potent backdrop of disco, the Son of Sam murders, women's lib, arson, and civil unrest. In her senior year of high school, Nora López is looking forward to turning 18 and saving enough money to move out on her own, escaping her needy Mima and increasingly volatile younger brother, Hector. She's excited about her new boyfriend Pablo (the cute stock boy at the bodega where she works), though the specter of a killer at large looms over their stolen moments together. Medina includes the murderer's notes to law enforcement, one of the ways she ramps up the tingly sense of unseen danger around each corner. Meanwhile, Mima faces a layoff and Hector's mood swings turn violent, just two more secrets that Nora tries to keep from Pablo and her best friend, Kathleen. Many readers will identify with Nora's economic worries and her longing for a better future. At one point, Nora describes her friends as "beautiful in the face of fear"; it's exactly how readers will think of Nora herself. THOUGHTS: With a strong historical setting and fully realized characters, this novel is a must-read.
Historical Fiction           Amy V. Pickett, Ridley High School
"Maybe the things that scare us seem more powerful than they truly are when we keep them secret" (269).  It's summer 1977 in Flushing, Queens.  It's one of the hottest summers on record and the evil that lurks in the city is on the prowl.  It's the summer of Son of Sam, and Nora Lopez worries about her long brown hair attracting the serial murderer, but that's just the cherry.  Arsonists have taken to the city and during a city-wide blackout, businesses are looted and burned to the ground.  As Nora witnesses her troubled, pyro-loving brother burn down the neighborhood pharmacy, her fears of failure, family, and her future finally force her to face herself and the lies she's been telling to protect her family from shame.  As Nora draws strength from within, she finally faces her broken family and future with inner-strength.  THOUGHTS: With a backdrop of disco, the Son of Sam murders, women's liberation, and cultural tensions, Burn Baby Burn is a wonderful piece of historical fiction that reminds readers that everyone faces difficulties, but it's how one stands up to those challenges that allows the future to unfold.
Historical Fiction     Erin Parkinson, Beaver Area MS-HS