Cook, Eileen. With Malice. Boston: Houghton Mifflin Harcourt, 2016. 978-0-5448-0509-5. 316 pp. $17.99. Gr. 9 and up.
When Jill Charron wakes up in the hospital, she has a broken leg, a head injury, and absolutely no memory of the last six weeks. She pieces together that she and her best friend, Simone, were in a car crash while on their Adventures Abroad trip to Italy. Simone died in the crash, and now Jill stands accused of deliberately killing her, fueled by a lifetime of jealousy. A media frenzy surrounds the case, recalling the real-life investigation and trial of Amanda Knox for the 2007 death of her roommate in Perugia, Italy. Cook fleshes out the sensational media attention on Jill through news excerpts, eyewitness accounts, Justice for Simone blog posts, and police interview transcripts. Jill is a sympathetic but necessarily distant main character; readers will pull for her as she strives to recover from both her physical injuries and her memory loss. With the exception of Anna, Jill's tough-talking rehab roommate, the supporting characters are stereotypical (e.g., the Italian tour guide is a lothario who romanced both girls). That aside, this novel's strength is its portrayal of a lifelong female friendship that may have gone horribly wrong. Did Jill resent playing second fiddle to vivacious Simone enough to harm her? Did she take the wheel of the car "with malice aforethought" or was it simply a tragic accident? Will her own memories make her wish she could forget again? THOUGHTS: Students who enjoy reading about the intricacies of memory disorders, mysteries, and the nuances of female friendship will enjoy With Malice by Eileen Cook.
Mystery      Amy V. Pickett, Ridley High School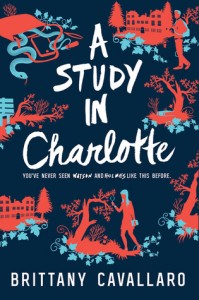 Cavallaro, Brittany. A Study in Charlotte. New York: Katherine Tegan Books, 2016. 978-0062398901. 336 p. $17.99. Gr. 9+.
The first in a planned trilogy, A Study in Charlotte introduces many young fans to both the story of Sherlock Holmes and the talented writer Brittany Cavallaro. Unlike some retellings of Sherlock Holmes, this story imagines that Holmes and Watson were real people, and their descendents are following in their respective footsteps. Teenager Jamie Watson has earned a rugby scholarship to a private school in Connecticut, so he sadly leaves his mother and sister behind in London. Though not pumped to be in the States (or near his father, who lives close to the school), Jamie is excited by the fact that Charlotte Holmes, the youngest of the Holmes clan and already known for her detecting abilities, attends the school. After meeting her at a poker game, the two quickly become friends, especially after a fellow classmate is murdered and they both are prime suspects. Jamie is quickly thrown into Charlotte's world of science, espionage, and intrigue. The characters are interesting yet sometimes slow to evolve from cliches into unique individuals; Charlotte seems rather two dimensional at first, and I was happy Cavallaro slowly gave her more nuances as the story grew. Reminiscent of Sherlock Holmes's rampant drug use, Charlotte does fight drug addiction and relies on Jamie to draw her out of her shell, as he relies on her to bring excitement to his life, wanted or not. THOUGHTS: Though slow to start, the story does pick up the pace quite a bit and ends with a bang. Readers will be eager to read the original tales, and anticipate the next installment in the trilogy.
Mystery       Lindsey Myers, Shady Side Academy Senior School
Though I have never been an avid fan of Sherlock Holmes or the stories by Sir Arthur Conan Doyle, I did find myself enjoying the novel and the adventure aspect of the story. Since reading this novel does make me want to revisit the originals, I can bet that our students will feel the same way! I also enjoyed the mystery aspect of this novel, which I am sure will attract many teens.