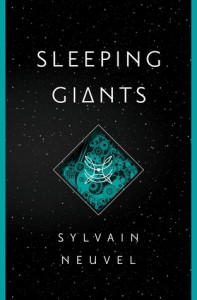 Neuvel, Sylvain. Sleeping Giants. New York: Del Rey, 2016. 978-1-101-88669-4. 304 pp. $26.00. Gr. 9 and up.
Rose Franklin was eleven years old when she fell into an enormous hole in the earth near her childhood home in Deadwood, South Dakota. The hole was actually a room with iridescent metal panels for walls and a giant cupped hand at its base. Seventeen years later, Rose is a physicist assigned to a secret, government-funded study of these artifacts. The metals are inexplicably ancient, and the panels contain elegant but indecipherable symbols. What's more, the iridium in the panels is so rare on earth that Rose concludes, "I don't believe humans built these things." Rose discovers that the other body parts buried around the globe are awakened by a radioactive isotope, and she is part of a team dedicated to retrieving and assembling them. Sleeping Giants, Book One of the Themis Files, comprises interview transcripts, news articles, and journal entries from Rose and other team members, conducted by an unnamed agent. Secrets, answers, and even more questions are unspooled with each chapter; the Epilogue leaves the reader with a tantalizing cliffhanger! THOUGHTS: While not an immediately obvious crossover selection, Sleeping Giants would be a great choice for readers of Andy Weir's sci-fi smash The Martian. Its inventive format is reminiscent of the interstellar Illuminae by Amie Kaufman and Jay Kristoff. Finally, it will appeal to fans of Joe Hill's showstopper NOS4A2, which also features a young woman whose life was shaped by her mysterious childhood excursions.
Waking Gods, Book Two of the Themis Files, will be released in April of 2017. More information about the series, news articles, and information about Sylvain Neuvel is available at www.thethemisfiles.com.
Science Fiction       Amy V. Pickett, Ridley High School Library