Olien, Jessica. The Blobfish Book. New York: Balzer + Bray, 2016. 978-0-06-239415-6. 40pgs. $17.99. Gr K-2.
The deep sea dwelling blobfish is ready to surface as a star in this blended informational picture book. Using a traditional basic reader book about creatures in the deep ocean, the pretty pink protagonist searches for his namesake, getting more impatient as the story goes on. When its moment finally arrives, the text claims it "was once voted the world's ugliest animal." Will the cast of characters manage to shed some light on this dark mood? Readers will be entertained and informed in their exploration.  THOUGHTS: This book is a great mix between the Pigeon books with his mood swings and the recent I'm Trying to Love Spiders. As an interactive story between the narrator and reader, the blobfish will be an empathetic favorite, and also open up lessons about bias, point of view, and the definition of nonfiction.
Animal Nonfiction    Dustin Brackbill, State College Area School District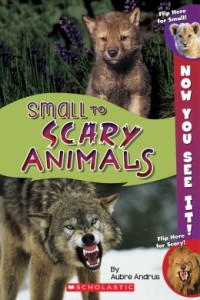 Andrus, Aubre. Now You See It: Small to Scary Animals. New York: Scholastic, 2016. 978-0-545-88960-5. 64pp. $5.99. Gr. 2-4.
This nonfiction title highlights fifteen different animals and shares facts and photos of them when they're babies and when they're grown up. The text describes how these animals may look cute when they're tiny, but they can grow up to be deadly predators as adults. Each double-page spread features three sentences about the animal on the left-hand page and an image of the animal on the right, and there are two double-page spreads for each animal. Featured animals include a variety of mammals, amphibians, and reptiles, including gray wolves, stingrays, porcupines, lions, moose, snakes, hyenas, and poison dart frogs.  THOUGHTS:  The large, close up photos and straightforward text make this a great fit for students who love animal facts, and it has been a huge hit in my library's browsing basket.
Animals; Nonfiction   Anne Bozievich, Friendship Elementary, Southern York County