Light, Steve. Swap!. Somerville, MA: Candlewick, 2016. 978-0-7636-7990-3. 40 pgs. $16.99. Gr. K-2.
Anyone who ever tried to play a game of 'Trade Up' will appreciate this simple yet smart picture book by Steve Light. We begin the game with a genial pirate captain and his trusty young first mate who are unsatisfied with their dull, run-down vessel. Soon an idea develops when they reach the market and barter a button for two teacups, which then gets traded for three coils of rope and then six oars. Before long, the reader is drawn into the game, the visual sub-stories, and the changing use of color and black & white. With minimal words and plenty to discuss, this book develops into a problem solvers dream, and may lead youngsters to start a swap of two of their own!  THOUGHTS: I really like the process of this book the more that I look at it. There are lessons on fairness, friendly interactions, sailor life & lingo, and resourcefulness. All that makes for easy extensions to the classroom and various subject areas.
Picture Book; Fantasy       Dustin Brackbill, State College Area School District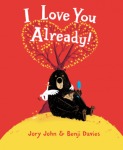 John, Jory. I Love You Already! New York: Harper, 2016. 978-0-06-237095-2. 32pp. $17.99. Gr K-2.
Duck and Bear are neighbors, and each has a different idea about what constitutes the perfect weekend morning. Bear is eager to spend the day relaxing in his cozy chair with a pot of tea and a pile of books. He's looking forward to a pleasant day by himself when Duck strolls over and insists they go for a walk. Duck lists many reasons why this is the perfect activity, including his hope that a walk will make Bear like him more. Bear assures Duck that he likes him already, but Duck doesn't take no for an answer. Duck keeps up an exhausting banter all morning, oblivious to Bear's one-word responses and to the fact that his companion just wants some quiet time alone. It isn't until Duck falls out of a tree that Bear's true feelings shine through and we realize the depth of their friendship and that opposites truly do attract. The book's vibrant, expressive illustrations will draw readers in, and the use of different font styles ensures there's never any confusion about which character is talking.  THOUGHTS: This book is the companion to Goodnight, Already! and the back-and-forth banter will make it a good read aloud. It is the perfect title to share with fans of the Pigeon and with Peter Brown's You Will Be My Friend.
Picture Book; Animals      Anne Bozievich, Friendship Elementary, Southern York County