Cline, Emma. The Girls. New York: Random House, 2016. 978-0-8129-9860-3. 355 pp. $27.00. Gr. 10 and up.
In the summer of 1969, California girl Evie Boyd finds herself stuck in between childhood and adolescence, junior high and boarding school, and her recently divorced parents and their new love interests. She's also bored and looking for something, or someone, to inject a spark into the long summer days. She stumbles into a friendship with an older girl named Suzanne, who soon introduces her to Russell and the makeshift family he's assembled on a decaying desert ranch. Charismatic Russell brings 14-year old Evie into the fold through lavish attention and sexual initiation. Russell is a fictionalized version of Charles Manson, and The Girls is loosely structured around well-known historical events. But, as the title suggests, Cline's focus is Evie, her relationship to the other girls on the ranch (especially Suzanne and the "blessed space of her attention"), and how close Evie drifts to life-altering violence. This impending violence filters through the entire narrative, and is also referenced in alternating chapters told from a middle-aged Evie's point of view. Cline's writing is atmospheric and inventive; for example, she describes a picture as "the unreal ocean and sky sandwiching a sugary rib of beach." However, at times her style overwhelms the storyline's pacing. THOUGHTS: Emma Cline's debut novel is a compelling portrait of pivotal female connections. The perennially intriguing Manson Family premise will attract readers to this coming-of-age novel, but note that Evie's sexual encounters (an indelible part of her loss of innocence) make this book most appropriate for very mature teens.  Plenty of books, articles, and documentaries about the Manson Family exist, but for an age-appropriate overview visit Biography.com's "Charles Manson Biography."
Historical Fiction (1960s)      Amy V. Pickett, Ridley High School Library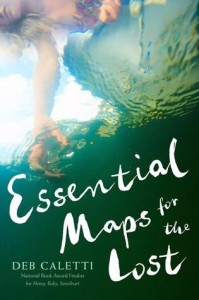 Caletti, Deb. Essential Maps for the Lost.  New York: Simon Pulse, 2016.  978-1-4814-1516-3. 325 p.  $17.99.  Gr. 9 and up.
Madison "Mads" Murray is spending the summer with her aunt and uncle in Seattle in order to finish up her real estate courses.  Despite the fact that she wants to go to college, her future has already been decided for her; she will pass her exams and then go into business with her extremely needy mother.  Everything changes, however, when she goes for a swim one morning and discovers the body of a woman who committed suicide. Unable to forget the woman's face, Mads begins to research the woman, and when she discovers that the woman left a son, Billy Youngwolf Floyd, behind, she is unable to contain her curiosity.  What she doesn't know is that the friendship she is about to begin with Billy will turn into so much more, and by not being honest with him about his mother, she might just destroy herself and everyone she cares about.  Told in alternating chapters from Mads's and Billy's points of view, this love story will give readers hope that even when the world seems dark and cruel, there is always love and beauty in it.  THOUGHTS: This book would pair well with From the Mixed-Up Files of Mrs. Basil E. Frankweiler, as there are multiple references to this title throughout the book.  It is also a great addition to any high school collection on depression and suicide, as both main characters struggle with bouts of depression and thoughts of suicide at some point in the book.  Because of these heavy topics and because of a few steamy love scenes ("Mouths on mouths, hands shoved down pants, if he doesn't get them a bed soon, he'll go crazy"), I would recommend this book to older students.
Realistic Fiction        Julie Ritter, Montoursville Area High School