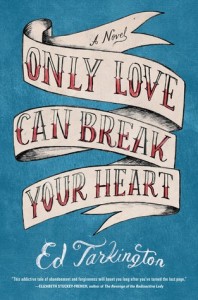 Tarkington, Ed. Only Love Can Break Your Heart. Chapel Hill, NC: Algonquin Books of Chapel Hill, 2016. 978-1-61620-382-5. 307 pp. $26.95. Gr. 10 and up.
As a young boy growing up in late 1970s small-town Virginia, Rocky Askew idolizes his rebellious older half-brother, Paul. Rocky is also infatuated with Paul's beautiful but secretly troubled girlfriend, Leigh. Following a rift with their father ("the Old Man"), Paul kidnaps Rocky from elementary school with a subtly threatening but unclear motive. After delivering a cigarette-sick Rocky home, Paul runs away with Leigh and literally disappears. Leigh returns home months later but doesn't seem sure of where Paul is, or if he's even alive. Meanwhile, Rocky is seduced by an older neighbor named Patricia, and the far-reaching ripples of Black Monday lead to the Old Man's downfall. Debut author Ed Tarkington then throws a catastrophic wedding, a high school production of Equus, and a ritualized double murder into the mix of this virtuosic literary achievement. Narrated with a reflective tone by an adult Rocky looking back, it has echoes of To Kill a Mockingbird, true crime, the music of Neil Young, and recent crossover standout My Sunshine Away by M.O. Walsh. At its core, Only Love Can Break Your Heart is a book about love: love between brothers, fathers and sons, first loves, and people and places. It's also about how love can be manipulated to make people do inexplicable, terrible things. THOUGHTS: Reading Only Love Can Break Your Heart is just like hearing a forgotten favorite song from adolescence: every word is perfectly right and every note rings true.
Historical Fiction; Adult Crossover      Amy V. Pickett, Ridley HS
Because of this adult novel's sexual content (namely Rocky's relationship with Patricia), I recommend reading it before deciding whether to add it to your library's collection for teens. Even if you opt not to recommend it to students, all of the literary allusions and nostalgia make it a wonderful choice for a teacher book club. Alex Award winners are really tough to predict, but Only Love Can Break Your Heart's fraught coming-of-age storyline could make it a contender!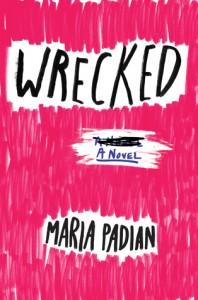 Padian, Maria. Wrecked. New York : Algonquin Young Readers, 2016. 9781616206246. 357 pp. $17.95. Gr.10 and up.
In her powerful and thought provoking novel, Wrecked,  Maria Padian examines the complexities of an on-campus sexual assault. The events of the night in question are revealed in flashbacks interspersed throughout the novel. But, the focus of the story is on Haley and Richard, the roommates of the victim and the perpetrator who become embroiled in the school's investigation into the incident. Their budding romance is tested as they are immediately thrown on opposite sides of the story. Though neither Haley nor Richard are close friends with Jenny and Jordan, they become uneasy participants in the unfolding inquiry and drama. The truth of what occurred is hard to determine; each character in the book perceives the truth through the lens of their own personal views and experiences. The novel sheds light on the pervasive self-absorption of many of the characters which reveals their lack of empathy for their fellow student. And, the situation is further complicated by the campus culture of binge drinking and easy hookups. The specter of social media harassment adds fuel to the drama.  This novel is recommended for older teen readers due to the mature themes, but it does present an important topic for discussion for students of both sexes.  THOUGHTS: A compelling look at a very serious topic and a timely read, especially in light of recent news coverage of campus sexual assault cases.  The author manages to convey a powerful message about consent that all young people must understand.
Realistic Fiction      Nancy Summers, Abington Senior HS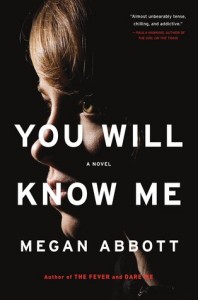 Abbott, Megan. You Will Know Me. New York: Little, Brown and Co., 2016. 978-0-316-23107-7. 345 pp. $26.00. Gr. 10 and up.
To fill the Olympic-sized hole in your life, look no further than You Will Know Me by Megan Abbott. It's an adult crossover thriller set in the world of competitive gymnastics. Fifteen-year old Devon Knox has set her sights on Senior Elite status and, potentially, the Olympics. Her parents, Katie and Eric, are ultra-involved in both Devon's training regimen and the gym where she trains: the boosters, the equipment, the coaching staff, and the gossip. Just weeks before Senior Elite qualifiers, Ryan (the boyfriend of beloved but volatile assistant coach Hailey) is found dead in an apparent hit-and-run. It's both a tragedy and a huge disruption to Devon's training plan. As her parents wrestle with how to proceed, police involvement suggests that maybe Ryan's death wasn't so accidental. Told from the point-of-view of full-time gymnastics mom, Katie, and set in the tense days following the accident, You Will Know Me has all the elements of a page-turner: a dazzling but largely opaque sport, a very cute but very dead guy, and the secrets of a teenager nicknamed "Ice Eyes." THOUGHTS: With the amazing success of Simone Biles and the entire U.S. Gymnastics team, now is the perfect time to get this crossover thriller into the hands (and onto the devices) of teen readers!
Realistic Fiction; Mystery/Suspense; Adult Crossover     Amy V. Pickett, Ridley HS