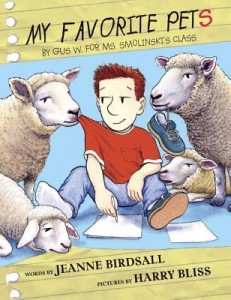 Birdsall, Jeanne. My Favorite Pets: by Gus W. for Ms. Smolinski's Class. New York: Alfred A. Knopf, 2016. 978-0-385-75570-2. Unpaged. $16.99. Gr. K-3.
Gus would rather read comics and write in his sheep diary than do homework which is why the assignment about "My Favorite Pet" is perfect for him. Cleverly, the entire book, minus a page at the beginning and end, is Gus' school report. The report, written in Gus' handwriting, shares the silly ways Gus interacts with the family's flock of sheep. Despite the failed attempts at skateboard training and tree climbing lessons, Gus still has a preference for lambs over his little brother. This humorous picture book will make adults and kids alike smile, embellished by illustrations from award-winning Harry Bliss.  THOUGHTS: This book is very amusing. It teaches facts about sheep, the plural of sheep is still sheep, and the crazy things this kid thinks up will make readers laugh. The clever use of the red "s" in the title shows itself to be the teacher's corrections.
Picture Book   Emily Woodward, The Baldwin School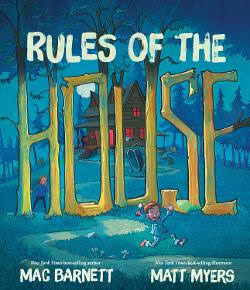 Barnett, Mac and Matt Myers. Rules of the House. Los Angeles: Disney Hyperion, 2016. 978-142318516-1. 44 pp. $17.99. Gr K-2.
"Follow the Rules: Brush your teeth. Make your bed. And never EVER open the red door." For a rule follower like Ian, this is all reasonable; alas, his older sister feels otherwise. She starts ignoring the rules on the sign in the vacation cabin, and things go really wrong when she dares to open the red door. Suddenly the offended objects come alive for vengeance! Should there be a rule that says, "Always save your sister from being eaten by monsters," and are there times when a lie might be ok? Mac Barnett continues to build a repertoire of odd, humorous tales to engage young readers and capture their imaginations. Matt Myers plays along with emotional and colorful illustrations that bring the children's decisions and consequences to life in eerie and startling fashion.  THOUGHTS: I see many discussions about rules, actions and consequences, and sibling relationships through this entertaining read. Mac's work is ideal for read alouds, and his sense of humor hits the right notes with adults as well as kids.
Picture Book; Fantasy    Dustin Brackbill, State College Area School District
Carbone, Elisa. Diana's White House Garden. New York: Viking, 2016. 978-0-670-01649-5. Unpaged. $17.99. Gr. 1-3.
Diana Hopkins was a ten-year-old girl who lived in a very big house… The White House! Her father was chief advisor to President Roosevelt during war-time. Diana had fun being a kid and playing with the Roosevelts' dog. But, she felt it was important for her to help with the war. She tried several different tactics, all getting her more frowns than smiles. One day, as she was playing with a bear named "Uncle Teddy" on President Roosevelt's desk she knew something the president said would be the perfect job for her! He suggested that all Americans turn their lawns into gardens to grow food, that way the food in the grocery stores could be sent to soldiers. Diana was so excited!  Armed with a pair of overalls and a lot of sun, Diana was ready to change the world.  THOUGHTS: This is a delightful book about how children can be inspirations. It is based on the true story of Diana Hopkins who inspired citizens around the country to grow their own gardens during war-time. Diana has to overcome obstacles in finding the right way to help (including sticking a White House guest in the bottom with a pin!) and even having to start her garden a second time because of rabbits. She preservers and in the end is set forth in the media as an example of patriotism. I love the Author and Illustrator's Notes at the back with a photograph!
Picture Book    Emily Woodward, The Baldwin School