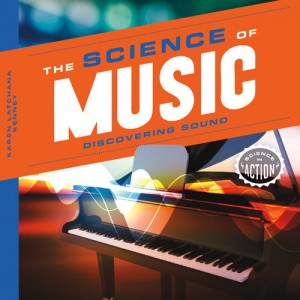 Latchana, Karen Kenney. Science in Action.  Minneapolis: ABDO, 2016. 32pp. $18.95.  Gr. 2-4.
The Science of Music: Discovering Sound. 978-1-62403-962-1.
The Science of Glaciers: How Temperature Works. 978-1-62403-961-4.
Music is a language that speaks across all boundaries.  There is a type of music for everyone.  So using the topic of music to introduce the often complicated science of sound is a great way to get students interested in the subject.  This series, entitled Science in Action, takes every day topics and uses them to connect to the scientific principles that make them possible.  Insets with famous scientists, graphs and charts about various statistics, bright and colorful graphics all combine to make the topic come alive for students.  The text also includes bold faced vocabulary words that are then explained in a glossary, as well as interesting connections to historical figures and even to the animal world which give depth to the topics covered. Included in the back of the book is an idea for an extension experiment as well as a link to a website that is monitored and updated by the publisher about the topics presented in the series.  THOUGHTS:  This series is a solid addition to any nonfiction collection.  The use of topics such as music, race cars, roller coasters and others catch the attention of students and make real world connections to the complex world of science.  Portions of these books could be great as a supplement or a read-aloud for a science unit.
Science    Donna Fernandez, Calvary Christian Academy
Sports Trivia. Minneapolis: ABDO, 2016. 48 p. $22.95. Gr. 2-4.
Ervin, Phil. Basketball Trivia.  978-1-68078-0024.
Howell, Brian.  Baseball Trivia. 978-1-68078-001-7.
This series of books  written in a "Question/Answer" style will appeal to sports fans.  It uses simple text but contains lots of history, stats and action that sports fans are always looking for.  Providing a nonfiction sports book helps even some reluctant readers to master text features while engaging in a subject they love.  Each book is divided into four sections based on the level of sports knowledge; Rookie, Veteran, Champion, and Hall of Famer.  They provide both black and white and color illustrations of famous athletes, a glossary of sports terms, and even a trivia quiz that readers can use to test their new knowledge after reading! The publisher also provides a website with extension activities and more information that is updated and kept current. Sports in the series include basketball, baseball, football, hockey, soccer and an Olympic edition.  Thoughts:  This series will be popular with the sports crowd!  Providing simpler text for the early reader will help to encourage fluency while using a topic that will hold their interest. Oh, and putting Steph Curry on the cover of the basketball edition will definitely draw attention to this fun set!
Sports                 Donna Fernandez, Calvary Christian Academy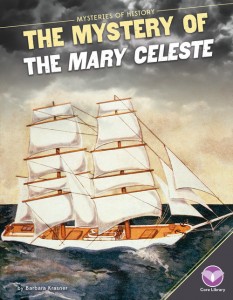 Mysteries of History. Minneapolis: ABDO, 2016. 48 p. $22.95. Gr. 3-6.
Krasner, Barbara.  The Mystery of the Mary Celeste. 978-1-68078-024-6.
Rea, Amy C.  The Mystery of Atlantis. 978-1-68078-023-9.                            
This series is a riveting look at some of the most famous mysteries in history.  The text is simple but provides many opportunities to stop and think about the evidence presented in the story.  Students are presented with quotes from primary sources and asked to respond by showing how the details in the story or quote support the main idea.  Readers are also given clues and asked to choose which theory they feel is the answer to this mystery based on the evidence provided in the text.  Along with rich text, charts, graphs, diagrams and maps, students and teachers are given links to videos and extension materials  through a site, mycorelibrary.com.  The author provides multiple opportunities for students to engage and interact with the topic including writing from the perspective of someone there, researching the topic further and writing about their findings, and using the evidence to choose a theory and support it with details. Titles in this series include:  The Mystery of the Mary Celeste; The Mystery of Atlantis; The Mystery of Area 51; The Mystery of the Roanoke Colonists; The Mystery of the Sphinx; The Mystery of the Nazca Lines.  Thoughts:  The high-interest topics of these books will make them popular in any library.  The extra activities and support for Common Core Standards and critical thinking make them a valuable asset for teachers to use as a stand alone or in conjunction with a history unit.
History          Donna Fernandez, Calvary Christian Academy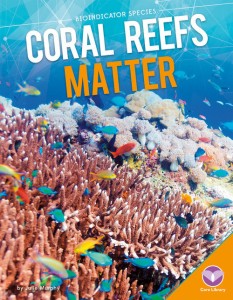 Bioindicator Species. Minneapolis: ABDO, 2016.  48pp. $22.95. Gr. 3-6.
Gagne, Tammy. Dragonflies Matter. 978-1-68078-010-9.
Murphy, Julie.  Coral Reefs Matter.  978-1-68078-009-3.     
This series focuses on the interrelationships of organisms in our environment and discusses threats to the ecosystems around the world.  Each book describes the organism, its purpose in the ecosystem, and the indications that they are giving to show that the ecosystem is in danger.  Full color illustrations provide a window into the world of nature being described, while graphs, charts and maps provide readers with statistics needed to synthesize the data. Throughout the text there are quotes from magazines and experts that readers can analyze and respond to.  At the conclusion of the books, there are several suggested projects and writing activities to challenge readers to think critically about the subject.  The publisher also provides extension activities and supplements for teachers through the website, mycorelibrary.com, that is updated to provide current information.  Titles in this set include:  Dragonflies Matter;  Coral Reefs Matter;  Bees Matter;  Frogs Matter;  Monarch Butterflies Matter;  Polar Bears Matter.  Thoughts:  This set of books challenges readers to examine the ecosystem and the impact that we as humans are making to our environment.  Along with critical thinking skills, these books encourage students to use multiple sources to collect data and information and fully support common core standards.  These topics could be used as a stand- alone unit, or in conjunction with a unit on climate change or biomes.   An excellent resource for both students and teachers.
Science; Ecosystems        Donna Fernandez, Calvary Christian Academy
Hansen, Grace.  Sharks. Minneapolis: ABDO, 2016. 24pp. $19.95. Gr. K-2.  
Blue Sharks. 978-1-68080151-4.
Bull Sharks.  978-1-68080152-1.
Sharks have a fascination all their own.   These beautiful photographs of sharks in their ocean habitats will pull readers in.  The simple text and large font will keep beginning reader's attention and provide support for fluency success.  The text features including a glossary, boldfaced words and a Table of Contents thatl reinforce how to find information in a nonfiction text  .   These simple, yet attractive books are a great introduction to the world of nonfiction for the new reader.  THOUGHTS:  A nonfiction collection today must include examples like these that are simple enough for even the earliest reader to manage with success.  The cool pictures and spooky sharks will keep them coming back for more!
Sharks      Donna Fernandez, Calvary Christian Academy