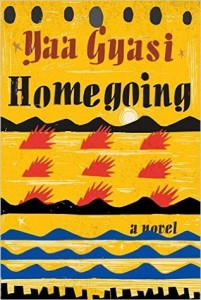 Gyasi, Yaa. Homegoing. New York: Alfred A. Knopf, 2016. 978-1-101-94713-5. 305 p. $26.95. Gr. 10 and up.
Homegoing is Yaa Gyasi's exceptionally accomplished debut novel, published for adults but a perfect crossover choice. It follows the parallel storylines of Effia and Esi, two half-sisters in 1700s Gold Coast, Africa (now Ghana), and their descendants. Effia, the beauty, marries James Collins, the British governor of the Cape Coast Castle, a union that strengthens her Fante nation's partnership with the British slavers. Esi, born to the same mother as Effia but into the Asante nation, is captured from her village and sold into slavery in America. Each chapter picks up a generation later, alternating between the two family lines: Effia's in Africa, and Esi's in America. The blunt cruelty of the slave trade, the violence of the slave experience, the uneasy existence of freed and escaped slaves, and the rippling consequences for African collaborators are all braided into this remarkable story. THOUGHTS: Gyasi has crafted a narrative that's both intimate and sprawling, set against a backdrop of two continents, three centuries, and many generations. It's a real literary gem and an absolute wonder to read.
Historical Fiction   Amy V. Pickett, Ridley High School
The very real Cape Coast Castle is at the heart of Homegoing. It may be helpful to share pictures of the building and a map of Ghana during booktalks to orient the novel's potential readers. A recent Daily Show interview with Yaa Gyasi may also spark their interest. Finally, this novel would be a perfect companion read to two recent books: Colson Whitehead's The Underground Railroad and Ta-Nehisi Coates' Between the World and Me.