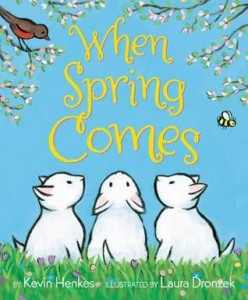 Henkes, Kevin. When Spring Comes. New York: Greenwillow Books, 2016. 978-0-06233-139-7. 32p. $17.99. Gr K-2.
Through spare verse and vibrant illustrations, this book celebrates all the small changes that occur as winter melts into spring. Opening pages describe trees blossoming, eggs hatching, and gardens sprouting. Additional pages depict children blowing bubbles in grassy meadows, stomping through mud puddles, flying kites, and riding bikes. Sharp-eyed readers will also notice all the animals that emerge in spring: kittens, ladybugs, butterflies, worms, bees, and rabbits. THOUGHTS:  The large font size and full-bleed acrylic illustrations draw readers in, and literary devices such as repetition and alliteration add to the cheerful mood.
Picture Book   Anne Bozievich, Friendship Elementary School, Southern York County
This book is perfect for discussing information about changing seasons with the youngest readers, and I plan to share it with my kindergarten teachers. It will be a great conversation starter as students listen to the story, view the illustrations, and share seasonal changes they've noticed as well. Kevin Henkes fans will not be disappointed.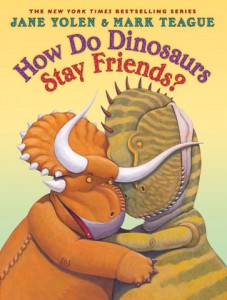 Yolen, Jane. How Do Dinosaurs Stay Friends? New York: The Blue Sky Press, 2016. 978-0-545-82934-2. 32pp. $16.99. Gr K-2.
The tenth title in Jane Yolen and Mark Teague's How Do Dinosaurs… series explores what makes friendships strong. The rhyming text unfolds in a large, easy-to-read font, and young readers are asked whether behaviors such as destroying a friend's toys, pushing each other, screaming, and tattling to teachers are acceptable. Then, healthy, friendly behaviors are modeled, such as writing apology notes, sharing toys, and taking turns when playing together. The message that even though friends may sometimes fight, there's always a way to make things right shines through clearly. THOUGHTS:  Young readers will love watching their favorite prehistoric creatures in familiar scenarios, and this book will be useful as a conversation starter about how to make and keep friends. Thanks to their large trim size and vibrant illustrations, the other titles in this series are popular with my kindergarten students, and I anticipate this one being a winner as well.
Picture Book   Anne Bozievich, Friendship Elementary, Southern York County
Macy, Sue. Miss Mary Reporting: The True Story of Sportswriter Mary Garber. New York: Simon & Schuster Books for Young Readers, 2016. 978-1-4814-0120-3. $17.99. Gr. 1-4.
Mary, a tomboy who loved all sports, was looked down on for playing tackle football with the boys and writing a sports newspaper for her grandparents rather than a nice letter. When she graduated from college, Mary wanted to write for the newspaper. The only job a female reporter could get was writing about social events and fashionable parties. Mary persevered and World War II afforded her the opportunity to fill in as a sports writer. Still, though, she faced many barriers and prejudices; at some games she wasn't allowed to sit in the Press Box. Citing Jackie Robinson as a role model, Mary didn't let the fact that she wasn't allowed in the locker rooms deter her. She became known for the quality and positivity of her writing. Readers, coaches and athletes came to know and respect her. For over fifty years Mary Gaber reported on sports, and made history doing it. THOUGHTS: I loved this book. Its powerful story of a pioneering woman breaking into a male-dominated field is complemented by surprisingly striking illustrations.
Biography Emily Woodward, The Baldwin School